Customers who wanted stylish multimedia phone with advanced services and the power to instantly communicate using industry-leading walkie-talkie services are able to get all of these capabilities in a single handset, the Motorola Deluxe ic902.
Motorola and Sprint have launched the Deluxe ic902 clamshell mobile phone. Motorola's ic902 utilizes the Nextel National Network (iDEN) for walkie-talkie services and Sprint Nationwide Network (CDMA) for voice and data services. Motorola ic902 supports Sprint's EVDO network and it is integrated with MP3 player. The ic902 comes with 2 megapixel camera, an internal and an external LDC display with Bluetooth capability. Motorola ic902 is the first unique device which supports Power Vision capabilities. The features of the Motorola ic902 are given below: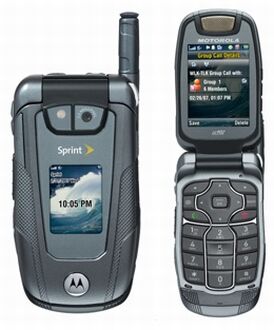 1) Nextel Walkie-Talkie service: It has best-in-class walkie-talkie service, which allows users to instantly connects with all other Nextel Walkie-Talkie users across the country and even across borders to Latin America and Canada. It also supports for advanced walkie-talkie features including Direct Talk, the off-network Walkie-Talkie service; Group Connect; and Direct Send.
2) Increased data speeds: Sprint Mobile Broadband Network delivers increased data speeds through EV-DO Rev. 0 technology.
3) In-built 2.0 megapixel camera: The ic902 supports Sprint Picture Mail for capturing and sharing important business or personal images.
4) Sprint Music Store: It allows users to browse and wirelessly download full-length songs directly to their phone for only 99 cents each with a Power Vision data plan.
5) Sprint TV: The ic902 delivers more than 50 channels of live television and on-demand video and audio.
6) Bluetooth Stereo: Motorola's ic902 enables hands-free communication with a wireless stereo earpiece or transmit data wirelessly from a compatible Bluetooth enabled device.
7) MP3 player: It heightens productivity and entertainment; listen to music, audio files or podcasts.
8) Micro SD slot: The microSD card slot stores songs, video, and pictures to a removable micro SD (transflash) memory card, which can be easily transferred to a PC with included SD adapter and USB adapter. 128MB micro SDTM included.
9) OnDemand: It retrieves customized, up-to-date web content like Sports, Weather, News, Money and Movie Information with the push of a button
Image Credit: Moreslore & IT tech News
Via: IT tech News