The 2011 census study has revealed the highly irregular development of India, where more people now have access to cellular technology than basic lavatory facilities. One might question the need for using space age imagery in such a mundane task; the reason was that it was the only way the government could track the burgeoning, and mostly unlawful, slums in the various metros in India. Any maps prepared of these regions are rendered null and void by the furious pace of expansion.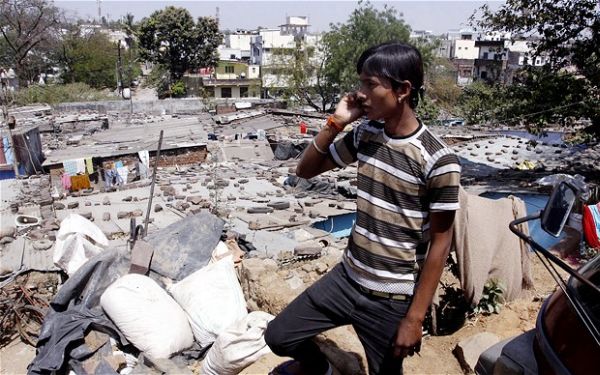 The final results published this week show that several years of swift economic development has resulted in only minimal changes to most Indians' lifestyle and none at all to nearly 200 million Indians.
Idealists say that this incredible increase in cellphone population is a proof of economic progress. To put this figure into perspective, consider the fact that the last census conducted 10 years ago said that less than 4 percent of non-urban population had cellphones; today that figure has risen phenomenally by nearly 14 times.
The increase in number of nuclear families, greater accessibility to electric power and the popularity of television over FM or AM radio are also being considered as evidence of progress.
But the population survey also highlighted the fact that only 10 percent more Indian people have a personal bathroom since the turn of this millennium. Access to potable water was also restricted to a third of the Indian population. 17 percent of all Indians had to travel half a kilometer in order to fetch water.
The fact that more people now have accessibility a cellphone than a bathroom has triggered a controversy on whether community plan or personal consumption is responsible this situation. Optimists, however, believe that wide variations in regional data reveals how a community plan and good public policy can matter even in poorer states.