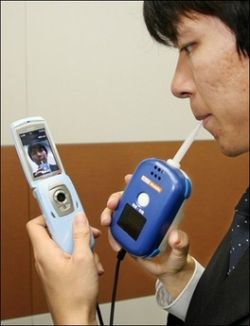 Japan has taken a tougher stance on the DUI culprits and they are taking the help of technology to stop this menace.
Japan's largest mobile operator KDDI corp. has launched a telephone-cum-breathanalyser 'Alc-mobile' that will help the bus and the taxi companies to track and know whether there drivers are driving under the influence of alcohol or not.
The drivers blow into the tube attached to the machine and immediately the info get transferred to the company's computer via GPS and if they are in inebriated state sirens will start ringing in the boss's computer.
Although a good product and targeted to stop the DUI menace, it is steeply priced at $750 with software at the additional cost of $500.
In addition govt. is also planning to change rules where by a DUI offense will bring 5-years of jail plus 1 million yen fine.
Via: Yahoonews