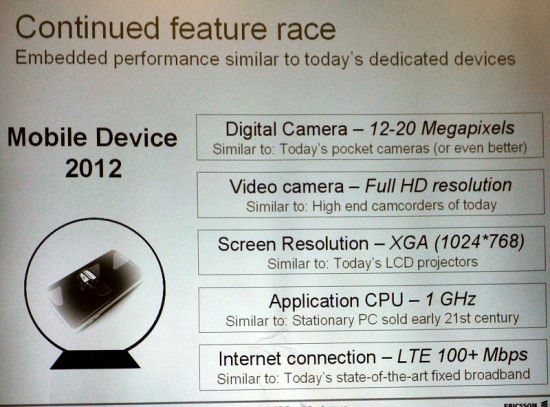 While the Sony Ericsson C905 Cyber-shot is capable enough to be used for magazine ad campaigns, we still need something better. Don't we? Now, Ericsson AB of Sweden hopes to see much better mobile devices in 4 years, which will be able to take Full HD video with a XGA resolution display screen. Now, that's the real amazing thing. As far as telecommunications functionality is concerned, the firm expects the device to support 100Mbps or faster LTE. Lundstedt, Ericsson's Director Portfolio Management, Product and Portfolio Management said:
We have an image of a mobile terminal equipped with digital camera and camcorder capabilities of the future.
They have plans to include a 12 to 20 megapixels camera module in the 2012 mobile devices and that looks quite feasible as we already have 8-megapixel cameraphones on the shelves.
Via: TechOn