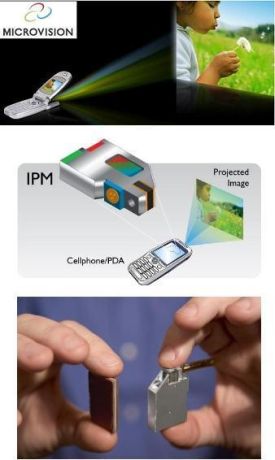 The small display screen on your mobile phone had always acted as an impediment for proper viewing of images but soon this problem will become an object of past and multi-media presentation using your mobile phone will be presented on full colour, high resolution format on a display screen ranging between 12 inches to 100 inches. The palm-sized mobile phone will not suddenly acquire any unreal bigger size, small it will remain with its 2-inch display screen, but by incorporating the latest technology from Microvision dubbed SHOW the small images can be displayed on larger screen.
SHOW is Microvision's handheld, battery powered, plug and play projector that can be connected to mobile phones, portable media players, digital cameras and laptops. It can project DVD quality image on any surface of size ranging between 12 inches and 100 inches. Being battery powered the projector can be turned anywhere at anytime. The battery is expected to run for 2.5 hours without recharging.
SHOW is not currently ready for commercial production but you can catch a glimpse of the Pico Projector at the Consumer Electronics Show 2008 to be held at Las Vegas.
Source: phoenixcorporate ir
Image:mobile 14