Zippy MT105 is the latest handset from Maxx that comes with a dual SIM standby and all the basic specifications. This mobile is designed to be a fun device; it is compact, colorful, contains many multimedia features and offers a full touch experience. According to Maxx, they launched this handset to match the demands of India's youth, who prefer to buy touch screen phones. We somewhat agree to this statement because this phone has some features that keep it above the other handsets available at this price range. Let us know more about Zippy.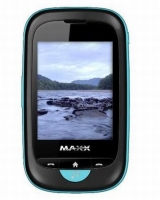 Performance
The retail package of the phone says that this is a touch screen handset, but this is not. We can call it as a "push screen," because it requires some pressure to choose an option. However, the screen offers acceptable quality of contents with average brightness. Though it is not responsive enough, but we cannot expect better at this price. Camera works well, even in the low light, thanks to the flash. Voice quality and signal reception is good. Overall, the performance of the mobile appears to be fine.
Features
The handset comes with a 2.4-inch TFT touch screen display that supports 65 K colors and digital camera with flash, digital zoom and video recording facility. The touch screen is resistive and is made of three layers, so you have to apply some pressure to use it. The handset has an external memory slot that supports memory cards up to 8GB. With its internal memory, the phone can store up to 250 contacts and 100 text messages. Connectivity options include Bluetooth and USB port, while the phone is enabled with GPRS to access the WAP browser. With a Li-ion 1000 mAh battery, it gives a talk time of 3.4 hours and standby time up to 350 hours. It operates at frequencies of GSM 900 / 1800 MHz | GSM 900 / 1800 MHz. It also has a torch light.
This handset is protected with anti-theft software and secures your messages and videos with privacy protection. It comes with multi-format audio/video player, wireless stereo FM radio and a 3.5 mm audio jack to enjoy the audio output from standard headphones. Its audio player supports MP3, AAC & WAV playback while the video player supports MP4, 3GPP, AVI video formats. Wireless stereo FM radio allows you to listen and record the songs without plugging in the handsets. Other useful programs include currency converter, EBook reader, image viewer and auto call record for recording calls. Apart from these programs, it also comes with many preinstalled games and has the basic messaging option including MMS and SMS.
Design
The phone has dimensions of 96MM x 54MM x 13.5MM and weighs 55 grams. Looking at its weight, there is no need to tell you that it is a very lightweight handset and this is the reason it is very comfortable to use and carry.
Available in dual black tone with metallic red, blue and orange colors, the phone is available at a price tag of Rs. 2,051. You can purchase the phone from any major electronic store including Plant M, Hyper City, Mobile and Gadgets, etc. Maxx has around 25,000 retailer and 500 after sales service across India.
Bottomline
The phone is targeted at those who are looking to experience touch screen and multimedia at a low cost. With its preloaded programs like mobile anti-theft, GPRS, auto call recording, its value increases. Apart from that, it has the dual SIM feature where you can use two GSM numbers and manage your professional and personal life with ease. Look at its features as well as performance and you will feel that it is reasonably priced when compared to other phones available in India. We can say it is a good option to choose from low price segment, especially for youths