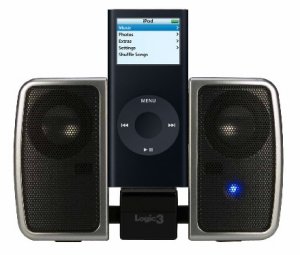 Logic3 has launched the first speaker system, i-Station Traveller specifically designed for Apple's handset. Logic3's i-Station Traveller is slick, small, black gloss finish and silver, which is designed to complement the iPhone's styling.
The design of i-Station Traveller will accommodate the iPhone both vertically and its side while traveling. It also accommodates a speaker system for music and even you can use your iPhone to watch videos.
Logic3's iPhone speakers are specifically designed to enhance the iPhone's sound with the TDMA noise, the sound emitted from mobile phones and heard through speakers, keeping a minimum sound. The device is compatible with gadgets with a 3.5 jack but includes a 2.5 mm converter, so that users can use it for other music phones also.
The Traveller needs four AAA batteries for charging. The the i-Station Traveller for iPhone will be available for £29.99 with complete case.
Image Credit: GoodGad
Via: Tech digest