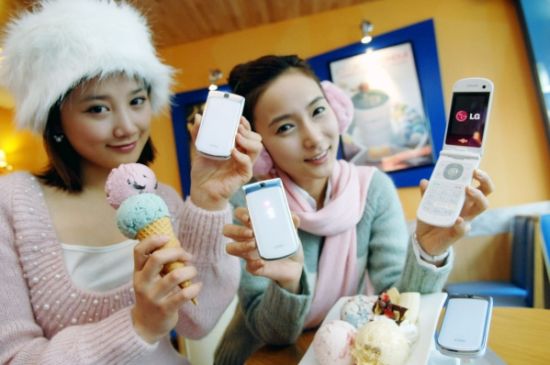 Here comes the successor to the Ice Cream Phone released in March this year. LG Electronics has taken the wraps off its 3G phone 'LG-LU1600' (aka Ice Cream Phone 2) in the Korean market. The 15.5mm thick clamshell phone has ice cream inspired colors with LED lighting. The pastel tone colors of light on the front panel shine whenever the Ice Cream Phone 2 receives a call or message. Moreover, emotive signs such as hearts and smileys pop up in orange LED light on the display. Available colors are snow white, sky blue and peach pink. The LG-LU1600 offers global roaming service in the United States, Japan and Southeast Asia.
Technical Specifications: EVDO Revision A mobile broadband, T- DMB, web surfing and electronic dictionary function.
Pricing & Availability: The Ice Cream Phone 2 is available via LG Telecom for between 400,000(KRW) and 500,000(KRW).
Via: Aving