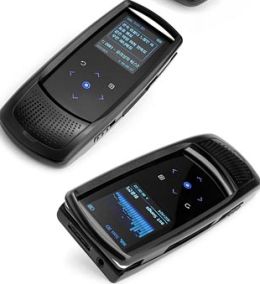 They say man is a social animal and if you are a perfect example this then certainly you'll love the Samsung YA-DS200 mobile speaker as it will play the MP3 music not just for you but also for your peers. This is a perfect gadget to make music a generalized enjoyment rather than restricting it to the individuals. Just plug it in tyour MP3 player and let all your friends groove to the tunes of your favorite number.
The look and design of the speaker is kept to suit the slim and sexy Samsung YP-K3 digital audio player. If you think it won't do much of a justice to the sound quality, then let me make it clear that this tiny miny speaker is no less than the all-in-one ghetto blaster known as the Samsung YP-K5. Not just this, the 800mW Samsung YA-DS200 can also be used as a "protective hull" for your DAP and the battery that comes along gives you an added booty.
The only that can stop you to grab the musical accessory is the fact that its initial release will be limited only to Korea and the price is yet to be revealed.
Via: MobileMag