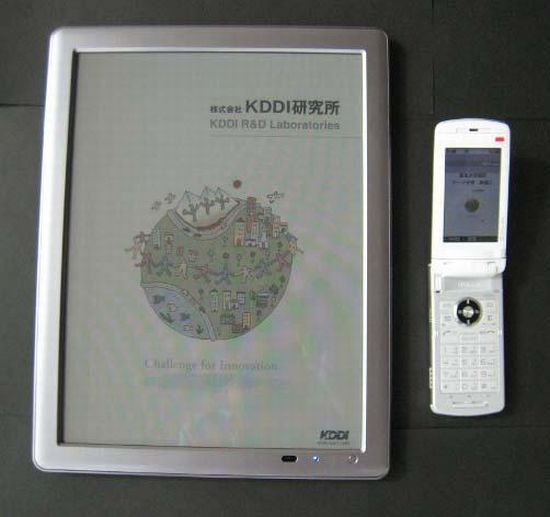 KDDI is now claiming to have developed the world's first electronic paper that displays images stored in a mobile phone. The firm is flaunting the new Portable Viewer System that has the capability to wirelessly transmit an image, kept in a mobile phone, onto a 13.1-inch color electronic paper display, which integrates Brigdestone's Electronic Liquid Powder technology to deliver 4,096 colors. The image is transferred to the e-paper using infrared in a short span of 12 seconds and the image displayed on the e-paper is more than 10 times larger than what we see on the display of the handset. This innovative system has been developed with a view to offer the image from a cellular phone onto an A4 size pamphlet. Well, it would be too early to comment on its availability, as the whole thing is in prototype stage for now.
What others are saying?
Donald Melanson at Engadget cites:
It is still a prototype, so there's at least a chance that a few of those seconds will get shaved off by the time it's released.
via TechOn