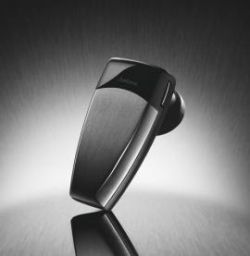 Adding precious metals like gold and titanium to gadgets has
become a fashion. Companies are adding these metals to their run-of-the-mill gadgets to give them that pristine look. Same is the case with this product – The Jabra JX20 Pura Titanium Bluetooth headset. As the product's extra long name suggests, this device comes coated with titanium giving it a hefty price tag of $179.
Keeping brushed anodized titanium and high-gloss black trim
accents apart, the device has nothing that could enable it to make any sort of waves in the market. The device which has been designed by Jacob Jensen, sports Bluetooth 2.0, auto-pairing, extra ear-hooks, ear-bud gel inserts, and a talk-time of up to 6 hours. If you still love simple gadgets in extraordinary claddings and with it you have $179 lying spare in your closet then its worth giving this baby a try.
Via: IntoMobile