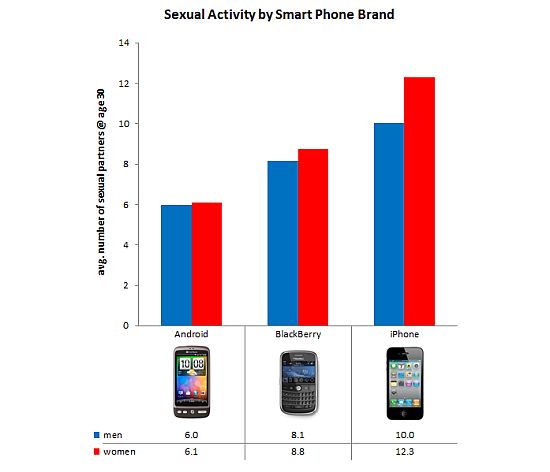 Technology, especially cellphones have transformed life by freeing up time for more exciting pursuits like sex. Yes, that's right. The elegant symbols of modernity — smartphones – seem to be fueling sex. Believe it or not, here's the proof from a dating site called OK Cupid.
According to the survey by OK Cupid that included 552,000 user pictures along with 11.4 million opinions on what makes a great photo. Apart from analyzing the user opinions on clicks from digital SLRs like the Panasonic and Nikons, the site also concluded that the iPhone users have more sexual partners than BlackBerry or Android owners. The survey predominantly focused on 30 year olds with smartphones concluded that the average male iPhone user has had about 10 partners while female iPhone users have had 12. By contrast, BlackBerry users hover around 8 partners and Android users have a mere 6.
For better or worse, the stimulation one gets from electronic gadgets has a whole new meaning and of course, the facts are harder to shake.
Via: Wired