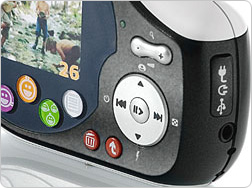 You are always a bit afraid to let your kids use your cell phone. This is not the case with just you but many others also don't want kids to fiddle with their expensive phones.
Now a toy manufacturing company of Spain named Imaginarium has developed a phone that is specially made for the kids. The phone is named Cam1 and has all the features that you have in your cell phone.
The phone has a 2-megapixel camera with clearly labeled navigation buttons that resemble those in a traditional camera.
The same controls can also be used to play MP3s. You will also find a pair for headphones included in the package.
The company has also made the phone ruggedized so that it can tolerate those unavoidable shocks and the abuse that will be given to the phone by the first time users.
Parents can also have a strong control on the outgoing calls and limit the functions of the phone. This feature looks to be inspired from Windows Vista. Concerned elders can also locate the phone through GPRS triangulation.
The phone will be released at the Barcelona 3GSM Expo, which is commencing next week.
Via: electronista