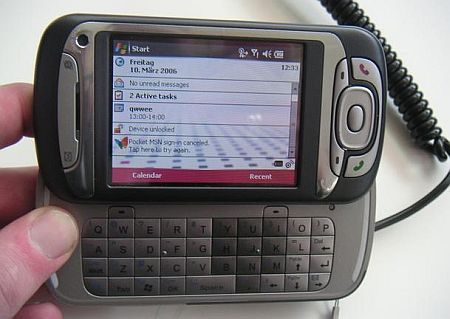 Do you remember the I-mate JAQ and I-mate SPL Smartphones? For the business users who want the best in mobile computing, the new i-mate JASJAM Pocket PC phone could be a good choice as it comes with loads of features along with its full color screen and QWERTY keyboard.
The key specification of the i-mate JASJAM Pocket PC phone are:
Microsoft Windows Mobile 5.0 Pocket PC.
WCDMA/HSDPA: 2100, 850 and 1900MHz.
GSM/GPRS/EDGE: 850/900/1800/1900MHz.
128MB ROM and 64MB RAM.
Bluetooth Connectivity and microSD card.
2.8″ 64k TFT LCD 240 x 320 resolution.
Built in WiFi 802.11b/g.
2.0 Megapixel camera and secondary camera for video calling.
The i-mate JASJAM is priced at $1500 and will be soon available at MrgadgetAustralia.
Via: MrGadget