HTC Wildfire is an affordable smartphone that arrived in mid 2010 with a 600 MHz processor, fantastic user interface and capable small body. It is a cute, little Android smartphone that may look underpowered, yet overpriced to some users. For others who find smartphones too large or oversized, Wildfire can be their street to walk. It is well built, packs a high-resolution screen and all the essential features, but is little slow. Manufactured to fill the gap between bargain-basement Android phones and powerful top range handsets, the phone is reasonably successful.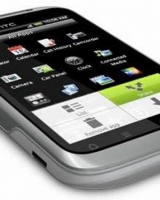 Performance
Display of the phone is clear and detailed that plays all the videos/apps with perfect colors and contrast. The screen is not as sharp as displays of other expensive phones, but that is what we can expect from a phone at this price. Viewing angles of the screen is great and you can expect a clear view outdoors, even under direct sunlight. All the buttons and the touch screen are responsive enough to provide you a smooth experience. General navigation and shuffling through different applications is fine. HTC's Sense interface is very comprehensive and adds huge amount of extra functionality to the Android OS. Call quality and reception are up to the mark.
The phone offers slow web browsing and lacks flash support too. Voice from the earpiece is clear but the loudspeaker rattles a bit at higher volume and its sound is too low to use outdoors. Battery backup is also not satisfactory.
Features
The phone runs on Android 2.3.Gingerbread operating system and has a 3.2-inch HVGA touch screen that highlights a resolution of 320×480 pixels. It has a 5-megapixel camera with LED flash that is powered by a 600MHz processor. It is a dual-band 1xRTT (800/1900 MHz) handset with 802.11b/g/n Wi-Fi. The phone comes with 100 MB of internal memory and supports up to 64 GB of micro SD card.
On the HTC's custom interface Sense, seven home screens are included that can be customized with different icons or widgets. Some of the preloaded apps in the phone are Loopt's social network, Metro Navigator, MetroPCS Easy Wi-Fi, M Studio and Metro 411. There is also Google Maps Navigation for voice-enabled and turn-by-turn GPS directions. Music player supports AAC, MP3, OGG, WAV, and WMA file formats but cannot play FLAC. Video player supports 3GP, MP4, and M4V with a resolution of 800-by-480.
Design
Wildfire is remarkably small, but as solid as rock. The phone brings durability and eye appealing design at a low price. It has dimensions of 4.0 by 2.3 by 0.5 inches (HWD) and weight of 3.7 ounces. It has a refreshing design with four capacitive touch buttons on the front but no physical buttons. Those four buttons include Android hone, menu, back and search.
The phone is completely made of white plastic with silver accents around its display and camera. Round the back, we have HTC moulded rubber cover that gives a comfortable grip and solid feel. The camera and its LED flash are also located on same side of the phone. On the top, there is the power button and audio port while on the left you will find volume controller and micro USB port. Micro SD card slot and SIM card slot is placed under the battery cover and there are loudspeakers on both sides. There is a proximity sensor on the front, which is responsible to dim the display once you press it against your ear.
Bottomline
HTC Wildfire is a low-end average Android smartphone where you can do lot more by paying less amount of money. The phone is well designed and easy on eye, but the slow data network is a huge disappointment that holds it back. Therefore, if you are not looking for the latest specifications and can accept some sluggish performance then this is one of the best and cheap smartphones available in the market. While if you are looking to buy a smartphone for speed, then buying this handset can be a problem for you. Before going for the purchase, bear in mind that by paying some extra bucks you can get a dual core handset with better performance.