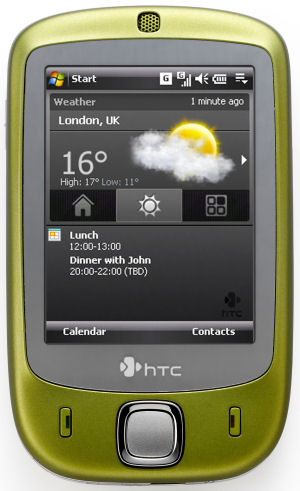 For those who just hate Apple for any weird reason but still want to feel its iPhone in their hands, HTC has launched HTC Touch, a small and stylish mobile phone that touts an innovative new concept in spontaneous touch screen navigation. It features a touchscreen interface, which is very much alike the Apple's soon to be released iPhone.
The HTC Touch the very first device to feature 'TouchFLO' touch screen technology that has been developed by HTC itself. It lets the users to 'simply sweep their finger up the display to launch an animated, three-dimensional interface.' The smartphone runs on Windows Mobile Professional 6 and features a 2.8-inch screen, built-in 2-megapixel digital camera, 64MB RAM, 128MB ROM, included 1GB microSD memory card, 802.11 b/g and BluetoothR 2.0. It also has sport for Direct Push Email and HTML email.
Although the HTC Touch, in no way, going to beat Apple's iPhone but it's certainly a good smartphone for those who are not devoted to Apple only.
Via: SlipperyBrick