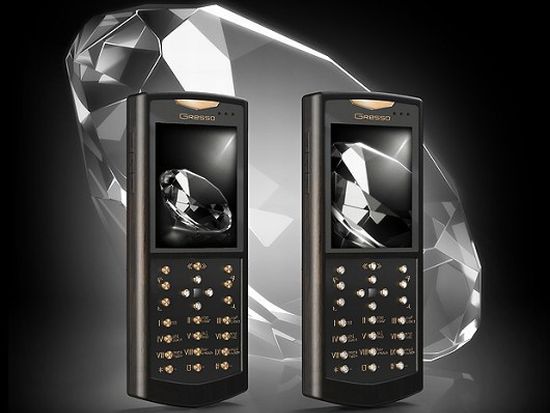 Diamonds could after all be a man's best friend too after the unveiling of this white diamond collection from the Russia-based mobile manufacturer, Gresso. After their stint with the black diamonds, they have tried their hands this time on the white ones with Gresso White Diamond Collection and Gresso Royal White Diamond Collection. The former is made of 200-year old African wood with keyboards that have a base plate made of titanium and a sharp battery cover of stainless steel. Highlighting this already highlighted device is a magnetic lock together with a leather and gold decor. This very Greek beauty in the mobile world has numbers on the keypad that are laser-cut in Roman style. The keys are made of 18K gold and the display is covered by 42K sapphire crystal glass. It's priced at approximately $14,000.

The Gresso Royal White Diamond Collection is more expensive of the two and will come out in a limited edition of 200 units only. All its 23 gold keys are embellished with 2.53K of white diamonds. If you are longing for this divine creation, you can put your name on it at a whopping $52,000!
The common grounds are use of Windows Mobile 6 Standard software along with features like tri-band GSM support, a 65K color TFT display QVGA resolution, a microSD memory card slot and a 2 megapixel camera! So if you want to woo your lady love and be in touch with her, this is a mobile phone with diamonds, it combines best of both the worlds!
Via: BornRich