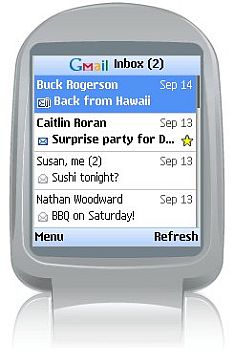 Google has made announcement for its new upgrade to its pack of mobile services. Earlier, gmail was accessible via a mobile browser only. The new 'Gmail for Mobile' ser vice will let the users have an access to a swift navigation, faster e-mail usage and viewing different types of attachments such as the word documents and PDF files.
The new Gmail for Mobile application is meant for java-enabled phones only. It enables the user to perform many other tasks like starring the message and reporting the spam like the computer based Gmail. Anyway, the phones other than the java-enabled handsets can still have an access to the gmail through the mobile browser.
Visit gmail.com/app to download the application.
Via: Mobilecrunch