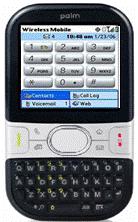 After a gap of one week, some more information regarding Palm's next-gen 3G Treo smartphone has come in.
First and foremost, it's official name is going to be Treo 500. According to report, this smartphone will have a Windows Mobile 6 version and a non-touchscreen version.
The best part about this smartphone from Palm is its designing and style. Weighing around 135g and measuring a svelte 117 x 65 x 13.8mm, this latest offering from Palm is over 8mm thinner as compared to the Palm Treo 750 model.
In terms of feature, it has a 2.4-inch QVGA unit capable of 65k colours, on the other hand onboard memory maxes out at 256MB and 64MB of RAM. With brilliant stereo Bluetooth, music lover is bound to enjoy this smartphone. No release date has been announced as yet, but watch this space it may happen very soon.