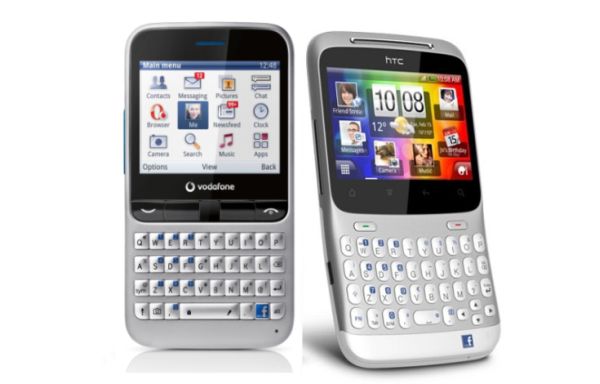 The challenge
Facebook is today's definition of staying connected. There are more and more mobiles and smartphones having the feature to connect to Facebook. In this rat race, there are two phones that are known to be dedicated to Facebook buttons. These two are the Facebook phone from Vodafone known as the Vodafone 555 Blue and the HTC ChaCha. The Vodafone 555 is designed primarily to do a single thing that is staying connected to Facebook. The phone directly takes its users to their respective account, and asks them to create an account in case a user doesn't have one. On the other hand, the HTC ChaCha is a smartphone that offers much more than simply a dedicated Facebook button.
Round one
Comparison attributes
Size
The size of Vodafone 555 Blue is 61.1 mm that is around 2.38 inches. The width of this phone is 12.0 mm and height is 110.0 mm. On the other hand, size of HTC ChaCha 64.6 mm with its height being 114.4 mm and depth being 10.7 mm. So, if we talk about the size, and comfort of carrying a phone is concerned then Vodafone 555 Blue is much ahead.
Display
As far as the colors in these smart phones are concerned, both HTC ChaCha and Vodafone 555 Blue have the same 262.1 thousand colors. The display size for Vodafone 555 Blue is 2.4 inches whereas HTC ChaCha has 2.6 inches. In the matter of resolution, the Vodafone 555 Blue has 320×240 pixels and HTC ChaCha has 480×320 pixels.
Operating system
For HTC ChaCha, the operating system is the Android, version of 2.3. Hence, if you are looking to do different things on your smartphone, then it is best to go for HTC ChaCha.
Camera
If you are fond of photography then one thing that you should be aware of is that the camera of HTC ChaCha is very strong with 5mp (2592×1944). It also has a secondary camera. As for as video recording is concerned, this Smartphone can do the VGA recording. On the other hand, Vodafone 555 Blue has a 2MP (1600×1200) camera. It doesn't have a secondary camera but can do complete video recording.
Memory
The HTC ChaCha has an unlimited call recording memory. The card slot it has is microSD, with 32 GB of internal memory. The smartphone can take unlimited entries. On the other hand, Vodafone 555 Blue has expandable memory up to 16 GB. The internal memory of Vodafone 555 Blue is 40 MB.
Connectivity
For HTC ChaCha, the Bluetooth connectivity is 3.0 (A2DP). It has the GPS feature, the GPRS feature that it has is class 10 with 32-48 kbps. The EDGE feature that it has is Class 10, 236.8kbps. On the other hand, Vodafone 555 Blue has the Bluetooth connectivity with 2.1 (A2DP). It has the EDGE with class 32 and 236.8kbits.
Battery
The battery used in HTC ChaCha is 1250mAh with a standby time of 660 hours. The talk time it can maintain is 8 hours. The battery type for this smart phone is lithium ion. On the other hand, the battery for Vodafone 555 Blue is 1000mAh with a standby time of 324 hours. The talk time it can support is 3 hours. The type of battery is once more lithium ion for Vodafone 555 Blue.
Weight
If you are concerned about how heavy the phone is going to carrying around, then Vodafone 555 Blue weighs only 84 grams. Weight of HTC ChaCha is 120 grams.
Winner
Keeping in mind the different features and specifications that are offered by these two smart phones, the winner is HTC ChaCha. Keeping its word, it is the smoothest and convenient way to be connected to Facebook at all times.
The verdict: Winner
If you are looking for the best gadget and a real smartphone then Vodafone 555 Blue will fail to impress you. The Vodafone exterior is light and inexpensive, but that doesn't make it look cheap in any way. The audio clarity through earphone is not very clear but the quality of calls is quite satisfactory. Therefore, if you are looking for a Facebook friendly phone in a budget then Vodafone 555 Blue is a great buy. However, if you can stretch on your wallet a bit or don't want to compromise on anything while selecting the best of smartphones then the most obvious of selections is the HTC ChaCha. So, don't wait any longer and grab your choice of Facebook friendly mobile.