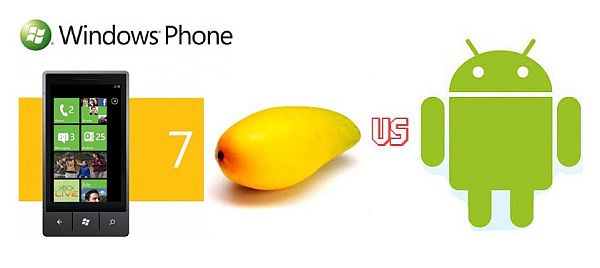 The challenge
Windows Phone 7 Mango and Android 2.3 Gingerbread are two prominent mobile operating systems that make rounds in smartphone market. Microsoft's Windows Phone 7 Mango came to reality being a challenge to the Google's Android Gingerbread. In fact, both the operating systems have been battling against the dominant Apple iOS for sometime around. As well, Windows Phone Mango and Gingerbread are about to receive their next major updates respectively called, Windows Phone 7.5 Mango and Android 4.0 Ice Cream Sandwich this fall. It is then we make a comparison between Windows Phone 7 Mango and Android Gingerbread for you under some important parameters.
Comparison attributes
Music
Music is a greatly important feature of a mobile operating system. These days, people buy mobile phones not only to make calls or surf the web, but also to listen to better music. Thanks to the presence of the celebrated Zune player, Windows Phone 7 remains as a champion in musical aspects. But Android, in the meanwhile, is a lackluster in music experience, even if you can download various music players from third party developers. Android Gingerbread, in fact, misses a complete music player solution like Zune player.
Winner: With no hints of doubt, the winner in this category is the Zune player-featured WP7.
Gaming
Windows Phone 7 is up with Microsoft's Xbox arcade. It is actually pointless to compare Android games with the muscular Xbox games. Of course, there are lots of exciting games from third party developers on Android for the young generation. But they are not enough to make Android competent to the Microsoft Xbox-powered Windows Phone 7.
Winner: Again WP 7 wins over Android with Xbox arcade.
Photo Editing
Just the capability to capture images is not enough for smartphones. Users will have to edit the photos taken to upload them on social media sites. On both the Windows Phone 7 and Android Gingerbread, there are better options for photo editing for you. WP7 is up with an advanced Thumb Photo Editor and Gingerbread also supports the feature thanks to many third party applications.
Winner: There seems to be not a tough competition in photo editing features between WP7 and Gingerbread. So there is no meaning for a comparison between the products.
User interface
Windows Phone 7 Mango is known for its revamped Metro UI and Hubs. Unlike the traditional icons on home screen, Phone 7 Mango gets tile-based icons. But the drawback is that there is no multitasking capability on WP7 Mango. You will have to close one app to open the other one. Meanwhile, Android Gingerbread has a smooth user interface powered by high multitasking capability. You can keep open many apps at a time. In others words, you can listen to music on a music player while surfing the Web on the browser.
Winner: With better multitasking feature, Android Gingerbread is the undisputed winner in this category. Windows Phone 7 Mango's Metro UI is certainly innovative, but it is yet to become a perfect solution, which we can expect on its upcoming Windows Phone 7.5 update.
Front facing camera support
Android Gingerbread supports dual cameras. You can run the operating system in devices that have a front facing and rear facing cameras. There are apps to manage your front facing camera on Gingerbread. Windows Phone 7 also comes with the front facing camera support. You can video-chat with your friends with Skype on a Windows Phone 7 Mango phone.
Winner: Both the operating systems support the much-necessary front facing camera. So there is not a winner in this category also.
The Verdict
There are lots of smartphones in the market that run on Windows Phone 7 Mango and Google Android Gingerbread. But Gingerbread has made huge success with some incredible smartphones like Samsung Galaxy series, Motorola Droid series and HTC smartphones. Windows Phone 7, though feature-rich, has not yet advanced into the frontline of smartphone industry. Microsoft is still running with intense efforts to make its Windows Phone platform a leading presence in the market. It is part of such a move that the company is about to roll out an advanced version for Windows Phone 7. But Google is also to come with up a new version for its Android so as to keep the competition going.