Vertu combines pioneering technology and sheer luxury to create the world's most exclusive mobile handsets. The British-based company manufactures and retails some of the most expensive mobile phones around the globe, through 600 retail outlets. Vertu mobile phones have become a symbol of luxury since their first store in Las Vegas opened in 2002. The starting range of these exquisite handsets is around £3500 for the Constellation model. By far their most expensive handset, the Signature Cobra, is priced at £213,000. Vertu, formally an exclusively owned company is now a sub division of the Finnish-based mobile phone manufacturer Nokia. Perry Oosting is the company's president and chief operating officer, and its principal designer is Frank Nuovo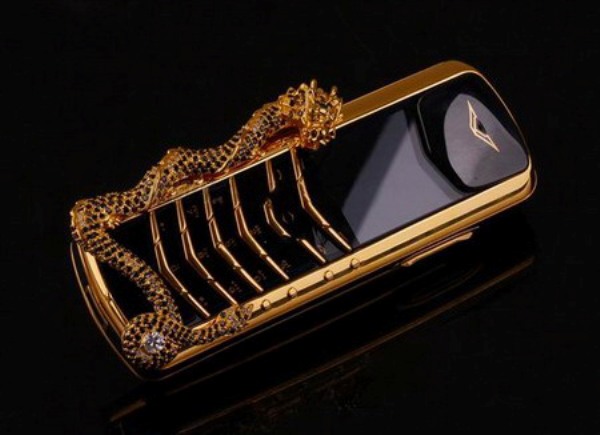 The components of each Vertu handset are exclusively created with the finest materials; proficiently assembled by a single craftsman to perfect finish. These mobile phones are collectively engineered by professionals from automotive, aerospace, and jewellery industries. Major production factory is in Church Crookham, Hampshire, England. Vertu uses some really expensive materials such as gold, sapphire, and rubies to craft different components of the handsets. Each key (button) used in these mobile phones is ground and cut from sapphire; a process that takes more than twenty-five hours of skill and labor. The accessories are specially designed with fine leather to match the dazzling handsets. The leather used is exclusively sourced from Northern Europe for the finest quality. It is then tested for its resistance to different substances such as petrol and kerosene. Unbelievably, the screen of each phone is protected by an ultra-thin sheet of sapphire crystal, which makes it virtually scratch-less. The bearings are also made from gold and rubies, adding to the richness. Coming to the audio system, a team of acoustic experts have put in a two-year long research to engineer a world-class sound system for these mobile phones. To demonstrate it, academy award winning Dario Marianelli composed a piece exclusively for Vertu, performed by London Symphony Orchestra.
Among the most famous Vertu models are Ascent, Signature Cobra, Ascent Ti, Ascent 2010, Ayxta, Quest, and Constellation. Vertu mobile phones currently run the Symbian mobile operating system. The future models might run the Windows Phone 7. Another special highlight of these phones is the "Vertu concierge" service. This service can be accessed directly through a special button, located on the side of every model. It connects the user with a team of lifestyle managers, which can assist in booking accommodations, luxury travel, dinning etc. Apart from its own brand retail showrooms, Vertu mobile phones are also available in selected department stores such as Harrods and Selfridges, in London. Vertu handsets are sold across the globe, but are most popular in Midde Eastern countries and Russia. Vertu has also partnered with Ferrari to create special edition models such as Ascent Race Track Editions and Ascent Ferrari Edition.
Vertu is among the major symbols of luxury in electronics. Its handsets are based on a foundation of magnificent designs and excellent craftsmanship, which makes them out of the ordinary.