Wish to enjoy some blissful dreams tonight? A superb iPhone app called the Dream: ON will help you enjoy some perfect reveries. Dream: ON is an effort by professor Richard Wiseman of the University of Hertfordshire, Britain, to see whether pleasant soundscapes could influence one's dreams. The app just checks users sleep patterns to identify when they slip to REM sleep and play preferred soundscapes to influence dreams, says Wiseman.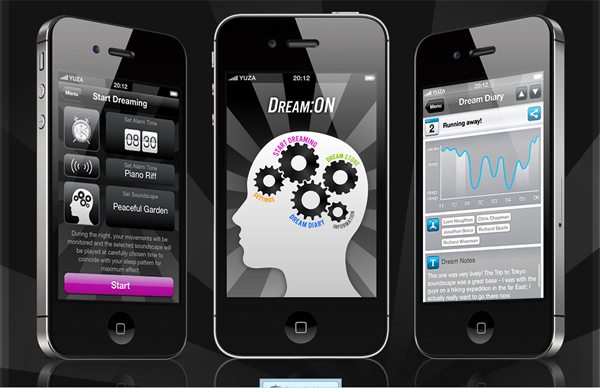 Studies have shown that most dreams occur during REM sleep. Your mind will be alert to other senses while you dream and so the soundscapes from your iPhone will naturally boost your dreams. Dream: ON plays the soundscape you have selected before going to bed. The soundtrack will keep your mind ready for dreaming and they will occur as you expected. But the app's developer warns that everyone won't have similar dreams. And so Dream: ON may not be effective for all and it may turn effective for many with few days' practice.
To run the Dream: ON, you are required to choose a particular soundscape from a preloaded list that includes a peaceful garden, ocean and others. It is to predetermine the mood of your dream in the night. After setting all the options, you should place your iPhone face down on the bed. The app will observe your movements during sleep and instigate dreams in you. Soon after, the app will begin to play the specific soundscape, which will lead you to a perfect dream. The app will itself adjust the sound to make sure you are not getting awake. This is what professor Richard Wiseman has to say about the Dream: ON app,
We have created a new way of carrying out mass participation experiments. We still know relatively little about the science of dreaming and this app may provide a real breakthrough in changing how we dream, and record and track those dreams.
Apart from helping you have perfect dreams, the app has a fully functional smart alarm, which will let users wake up with a fresh mind. The alarm gently produces voice to wake you up at an optimum moment. Moreover, it has a functionality to record your dreams and sleeping patterns as graphs. In the morning, the app will show a graphical pattern of your sleep movements.
The app also has an option to help you instantly share your dreams and sleeping patterns with friends on social media sites like Twitter and Facebook. The researcher behind Dream: ON is also working to develop a Dream Bank, a social platform where users can share their dreams and read the dreams of their friends. Of course, Dream: ON might be the world's biggest dream experiment ever.