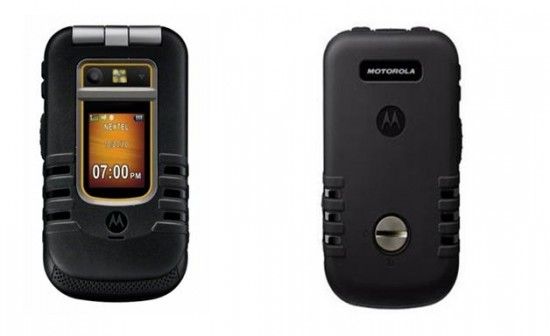 Designed for consumers who work in the most extreme conditions, the sturdy Motorola Brute i686 comes equipped with a rubberized housing and robust framework that renders a non-slip grip. Ideal for users who encounter tough conditions, the brawny mobile device enables switching from a push-to-talk call that is active to an interconnect voice call. Boasting of its uncommon durability, the latest Nextel Direct Connect handset meets Military Specification 810G requirements and can seamlessly withstand temperature extremes, solar radiation, dust, shock, humidity, immersion, blowing rain, vibration, salt fog and blowing rain. No matter the condition, the metal device covered in a rubber case touts to be the first iDEN clam phone.
What is it:
Weighing 5.6 ounces, the strong Brute i686 is a tough phone that can effortlessly survive extreme environments and immersion. The feature-rich device enables users to send messages or push a button to talk by taking advantage of the reliable Nextel Direct Connect network. Users can also stay connected with the phone's incorporated support for Group Connect, Direct Send and Direct Talk services. The provided dual microphones provide clear audibility even in loud environments at the same time. Users can facilely experience their incredible sound quality with background noise cancellation and engage in conversations without any disturbance. The sturdily built Brute i686 also brings a variety of messaging capabilities while redefining durability and ruggedness.
Key features:
The rugged Motorola Brute i686 comes incorporated with a decent 2 megapixel camera with flash and large 2.2-inch internal and external 1.3-inch color display. By taking advantage of its Next Mail, users can easily send voice messages to any e-mail address to document. One can even keep a track on an activity with the device's convenient Direct Connect button. There's support for up to 8GB microSD card and advanced stereo Bluetooth Wireless technology as well. Users can even experience i686's GPS with GPS Tagging of photos and pre-loaded applications including Sprint Football Live. Some other highlights of the handset subsume lithium-ion 1750mAh battery that offers talk time up to 350 minutes, push to talk features and 180MB of internal memory.
What's innovative:
Although Brute i686 is a relatively basic phone, the variant manages to pack in some powerful, advanced features. With i686, Motorola has claimed to have designed the first iDEN clam phone with the ability to survive tough environment conditions. Impressively, the mobile device can be immersed up to 1 meter of water for around 30 minutes. Despite being a rugged handset, Motorola Brute i686 entertains users with its music player and player track controls. Users can even customize their album art with interesting themes and visualizations. Under messaging features, the phone prances with a unified message Inbox, SMS, MMS and IM-style message threading.
Price and availability: The sturdy yet trendy Motorola Brute i686 is now available for purchase through Sprint and comes with a price tag that reads at $139.99.
The up side:
The strapping handset from Motorola is definitely great for people seeking a rugged, durable mobile phone combined with considerable multimedia functions. The Brute i686 proffers acceptable radiation level and ascertains incredible resistance against tough conditions. The phone features utmost ruggedness and better water resistance. Also, the entire package comes equipped with headset and holster as useful accessories. Users may even find the phone's 2 megapixel camera rendering decent performance. The camera enhances the experience by a few exciting options and settings such as geo-tagging, white balance and self-timer. Though Brute i686's camera is basic, it does manage to include a few advanced control options.
The down side:
Users who are more enthusiastic about recording videos may get disappointed with the handset's recording rate. Though there's a camcorder to record videos, its top recording rate of 15 frames per second disheartens to a considerable extent. If we compare Motorola's this phone with cinema movies and North American television sets, both latter feature a rate of 24 frames per second and over 30 frames per second respectively. In addition to the slow recording rate, the model has a disadvantage of bearing a bulky body. Whether users carry the phone in their pocket or just hold it in their hands, the Brute i686 falls pretty heavy at 5.6 ounces of weight.
The bottomline:

The Motorola Brute i686 is an ideal phone for users seeking a durable handset with basic features. Nevertheless, the phone may disappoint users who want a good web experience and a high performance camera.