What exactly is Dell Streak – an overly sized smartphone with deep Android roots, an aesthetic iPad competitor or a high resolution tablet? Though the sleek tot has had buzzed the globe for all the right reasons, the good blend of all in one compact form factor rather receives additional points for being so excessively addictive. To break the shell, the beautifully devised Stream from Dell is an amazing Android-based tablet-phone (although, some believe it to be a mighty contender for Apple's i-tablet). Fitted with a gorgeous 5-inch Gorilla Glass touchscreen, the device is indeed as slick as a streak and strikes probably the most harmonious chords for people who seek an interesting fusion of performance, portability and power. Quite literally in a unique place by itself, the phone cum tablet however doesn't flee from raising brows for some as far as its volume as a mobile phone is concerned. But honestly, we wouldn't be off-track for stating that Dell's super responsive Streak in a way leaves the tablet war with even more fumes.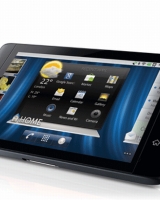 Performance
Coming to the most important segment, Dell Streak does thrive at rendering faster performance and operating speed. With 1GHz Qualcomm Snapdragon QSD8250 processor and Adreno 200 GPU, the tablet cum phone brings forth speedy web browsing and an amazing viewing experience. So be it watching high definition videos, sharing pictures with friends on social networking sites, or just exploring the Android world, the powerful tot lets you do all. However, the best part about the Streak comes as its massive multi-tasking capability – something which even Apple has not yet had it.
Cutting the frills, by taking advantage of which, you will simply be enabled to play driving tunes and indulge in interesting conversations at the same time. The Gorilla multi-touch display and dedicated camera functions are great too, leaving users with yet another reason to dote on. In fact, you may even find the device as a perfect tool that fits the bill and helps you manage your personal as well as professional life like anything else could ever have.
On the battery front, the great combination of all scores good points as well – providing you with up to 9 hours and 48 minutes of talktime and up to 400 hours of standby time.
Features
Integrated with Android 2.2 inside the chassis, Dell Streak not only fits perfectly well in today's superbly specced Android-based mobile phones, but also perks up the entire interaction through some really powerful sprinkles. However, you can very much upgrade the operating system to an enhanced, upper one through an over-the-air update. Packing 'big' features in a condensed structure, the device comes embedded with a stunning 5.0" damage-resistant Gorilla Glass screen which has been beautifully optimized for mobile web, video and movies. So whether you want to glance through your favorite pictures, watch some time-gripping flicks, or simply listen to music in great clarity, the flawlessly sized go-anywhere Streak lets you do just about everything.
As it goes without saying, the little yet remarkable machine also takes care of your needs to stay socially turned on. For which, there are embedded social networking widgets and apps, along with a host of applications through the Android Marketplace. You can even benefit from Google maps with navigation and text-to-voice. At the same time, the exigency to seize special memories gets answered through a high end 5MP camera with dual LED flash. Augmenting your entire user experience will be a user-friendly VGA webcam, built-in speakers, awesome messaging options, 16GB of internal storage, and sensors.
Some other features that should catch your attention include Adobe Flash compatibility, Google Mobile Services, 3.5mm jack, Bluetooth v2.0 with A2DP, USB v2.0, Wi-Fi, and audio and video players.
Design
Like we aforementioned, Dell Streak snoozes intriguingly in a huge yet compact framework that boasts of satiny edges and smooth curves. The device stands out for Dell's distinctive elements and clean layout, with the chrome 'Dell' logo inscribed quite exquisitely just behind. The front, on the other hand, has been refined with a large, intuitive touchscreen and three touch sensitive buttons (which are backlit, thankfully). The clean design looks even more polished with a small slit that finds an accommodation on top front for the ear piece.
The model's right surface features camera key, volume controller, power key and 3.5mm audio jack. The left side whereas gets settled a custom 20 pin docking slot (although, that reminds us quite a lot of Apple iPhone). What else?
Well, just next to the battery cover, you will be noticing a huge grill which simply endows an overall balanced appeal. If you ask us to put it in a nutshell, the stunning looking Streak from Dell topples as an incredibly stylish tablet cum phone for any elegance seeker. However, the dimensions reach somewhere 152.9mm x 79.1mm x 9.98 whilst the weight comes up to 220g.
Bottomline
To call upon the final cards, Dell's super amazing and innovative Streak honestly finds the best balance between tablet and smartphone in a spot where nobody else could have set sights at. Although the device feels a dearth of a couple of tweaks, it certainly makes a great pick any day. So if you want to systematize your professional life, stay more active socially, or just want an entertainment and multimedia hub to walk along with you all throughout, Dell Streak is then meant for you. And at a cost that comes around Rs. 18,390, what else better could you latch onto?