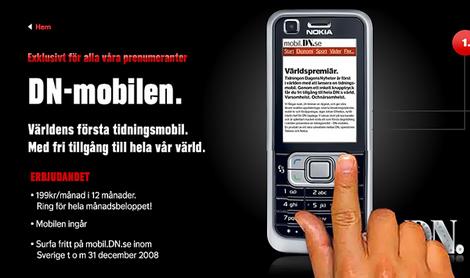 You can watch movies, listen to music, check mails, play games and now can read the newspaper as well. Yes, I am talking about a cell phone and its versatility in our daily life. 'Dagens Nyheter', a Swedish publishing house with one of the largest subscriptions in Sweden, has launched the world's first newspaper cell phone.
There were already phones available for music lovers, business professionals, sportsmen, and now wait for newspaper lovers also comes to an end with this launch. It's true that we get tits and bits of day-to-day information by subscribing to the network providers. However, what makes this "newspaper" telephone special is the fact that you can directly subscribe to the online and get free access to the newspaper websites.This can be considered as a step towards going completely digital, as most publishing houses realize that providing mobile content is one of the promising and profiting businesses in recent times.
Aimed at being easily accessible to anyone who is not able to either connect to Internet or buy a newspaper, this facility can be obtained by purchasing a Nokia 6120 3G phone (strictly available from the newspaper's website!) and subscribing for a monthly plan for $A35. The special phone has a button for directly opening the page for DN.
So, just one click and information is at hand!
source: Theage