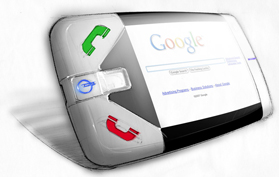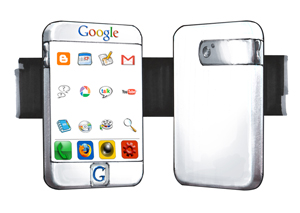 iPhone may not be the phone straight from future as another strong contender for this chase seems to be getting whole of the industry's attention. You guessed it right, that's the most awaited 'Google Phone'. Mobile developers at Google seem to be all set to give Apple a hot competition and the Gphone may prove to be a strong reason for it.
Industry researchers are working out formulations so as to gather maximum information about the upcoming sensation in the mobile world. After holding up the strongest position in 'world wide web' search, Google could once again emerge as the undisputed ruler of the mobile segment. Apple fully concentrated on pioneering hardware and ergonomics through iPhone but mobile developers comment that Gphone would be a lethal combination of a wireless carrier as well as a telecommunication breakthrough.

As far as the Gphone's technical specifications are concerned – rumor has it that Google is busy developing its own mobile operating system that would cater to the industry's rising cutthroat competition. Android, Google's OS development partner, has teamed up with the 'Gteam' in order to give shape to the Linux-based mobile operating system.
It would certainly support the contemporary technological advancements of the industry – 3G, VoIP service, internet telephony through Gtalk or may be Skype, may get a QWERTY keyboard, image stabilization during video making and imagery functions, GPS, location based services for global coverage, and would sport Google's social network Dodgeball.
Check out what Daniel Langendorf has to say through 'last100' –
The iPhone sports a 2 megapixel camera. Google should at least match this, or maybe go one better if it's feasible cost-wise. One way Google could differentiate its camera from others is not through megapixels but through image stabilization, which is now found on many point-and-shoot cameras and high-end lenses for digital cameras.

Video cameras on cell phones are nice to have, and are becoming more relevant in the era of YouTube. But cell phone video cameras suck. The 'film' is grainy and its hard to do anything with the content other than watch it on the phone. A cell phone that could shoot 640 x 480 video, in an acceptable standard (like H.264), and allow people to do something with the content (email, download to a computer, upload to YouTube) would usher in a new wave of mobile content development.
Via: Readwriteweb