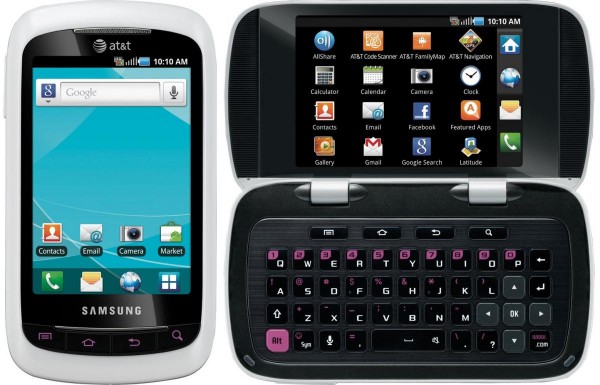 First look
Mobile phones are coming out in all possible dimensions and shapes these days. One such phone is the Samsung DoubleTime with dual display screens and good specifications. Both the display screens are large in size with decent response. The phone is unique for its form factor which resembles a Clamshell. On the outside, you have a normal full touchscreen similar to most Samsung mobiles. Once you full flip the screen, you get a physical QWERTY along with the additional screen which unfortunately is not touch sensitive.
What's new
This is the first time we are seeing a phone with two display screens and that is a great feature. How well that is going to help you? While typing, it is very useful. Normal touchscreen phones with a sliding QWERTY are very sensitive and hence you might rub the touchscreen while typing. But, in the Samsung DoubleTime, the inside display screen is non responsive to touch and hence you need not worry about that factor.
What's been refreshed
This phone is totally new and the whole thing itself is refreshing. Unlike the other mobiles from Samsung, this does not boast a clear, vivid screen. But, nonetheless you have two screens which is a plus in itself.
The operating system is the out-dated Android 2.2 Froyo and that could have been upgraded to 2.3. That is one area where the phone fails.
Features walkthrough
You get almost all the features that you would expect from an entry level Android phone in this device too. The moot point is that this phone lacks the killer element. Other than the dual display, there is nothing much that will lure you into buying this one.
The phone plays normal formats like MP4, MP3, WAV and AAC. But, you can make it playback all formats including AVI and MKV by installing third party applications. There is an Organizer, separate editors for pictures and videos and Google application support such as Gmail and YouTube. You also get a Document Editor with this phone which was absent in the previous models of Samsung. As it has a QWERTY plus the document editor, it is perfect for business class people.
The phone has Adobe Flash support and hence it will playback online videos and games with ease. This is also a great feature of the phone. Texting too becomes easy with the predictive text input integration that comes with the mobile.
There is a decent 3.2 MP back camera in the mobile. It is pretty decent considering the low cost of the mobile. There is no front camera and that is a big minus. The camera can shoot decent videos in 480p and that is good for a phone of this cost.
The internal memory of the phone is 260 MB and you can extend that to 32GB through a Micro USB slot. But, on inserting large capacity memory cards, the system slows down.
What's good
What's good is the unique form factor of the mobile phone. There is any other mobile in the market with a Clamshell design. So, buy it if you want to be unique.
Considering the low cost of the mobile, the features that it has are quite reasonable. So, features to cost ratio is good.
What's not so good?
The operating system is a big let down. We are in the age of Android 4.0 and the phone still has 2.2. This is serious downgrading and people will think twice before buying a out dated phone for sure.
Absence of a front camera is a let down. People are getting the hang of video calling at the moment and they need a front camera in their mobile these days. This phone simply fails in that area.
Price and availability
The phone has not been officially released in many parts of the world and hence no one knows the exact price of the device.
Wrap-up
This is the phone that Samsung has released after the Galaxy S2. So, naturally the expectations were sky high. But, the phone is a huge let down. Other than the dual screen, there is not a single stand out feature.
A thoroughly out dated phone. Go for it only if you are so compelled by the dual screen.