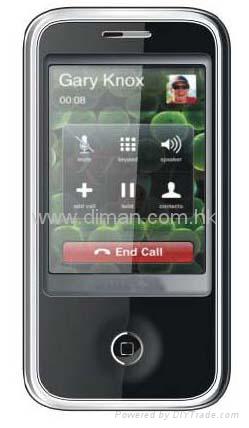 There was a time when Chinese companies used to create rip offs of different cellphones, but things have changed since iPhone's launch.
Don't be disheartened, they are still creating non-iPhone clones but iPhone is on top of their list. Everybody knows about CECT, the biggest cloners of them all. They are at it again (like they ever stopped) and here is me presenting a new iPhone clone to you. Nothing special about it though, as it's a real bad rip-off, I mean even if you are breeding clones then at least keep them real. Screen is bit smaller and the added plastic part on top and bottom of screen just make it look ugly.
CECT T5 T32 features 2.8" QVGA 240*320 TFT touch screen, tri-band GSM, GPRS Class 10, Windows Mobile 6.0 (no wow), GPS, Bluetooth 2.0, 2 MP camera (using s/w, uh?), 128 MB ROM, 64 MB SDRAM, external TF card upto 2 GB with talk time of about 3-4 hrs and standby time of 150 hrs. It measures 114 x 50 x 17.5 mm. It is priced at $265 per piece and is available in a pack of 10.
Via: 3j9