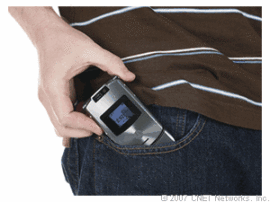 Cellphones are usually associated with cases of traffic accidents, but if Nissan's Intelligent Transportation System (ITS) is to be believed, then cellphones can actually avoid traffic accidents.
Nissan's ITS works with 3G cellular communications networks to collect GPS data on the mobile-phone wielding pedestrians' position in relation to cars on the road. In case any pedestrian is directly in path of the vehicle, the system alerts the driver by a activating a warning in the cabin.
Nissan is working on the pedestrian-location system as a part of its wider trial of new technologies, with Japanese wireless company NTT Docomo in Kanagawa, Tokyo.
If the technology is successful, then it may proove a boon to the society, besides salvaging the tarnished image of cellphones.