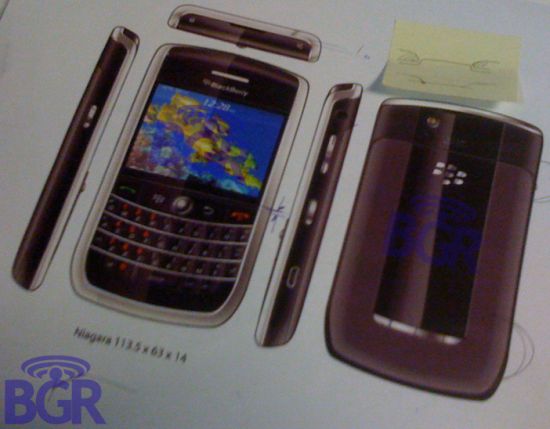 Verizon Wireless might soon be touting a lavish, keyboard-and-scroll-ball smartphone, dubbed BlackBerry Niagara in its line-up. Targeting the corporate customers, this cellphone is all-packed with impressive features with a potential flaw as well i.e. Wi-Fi. It's basically designed for the CDMA networks. Don't forget to compare it with Curve 8900 here.
Technical Specifications: A full QWERTY keypad, EV-DO rev A connectivity, a 480 x 360 pixels display, A-GPS, a 3.2MP camera, BlackBerry Enterprise Server 5.0 and BlackBerry OS 4.6.

Pricing & Availability: Sans any official announcement, Verizon Wireless might be releasing it in May itself. While we come with the pricing details, stay tuned!
Via: Unwired View