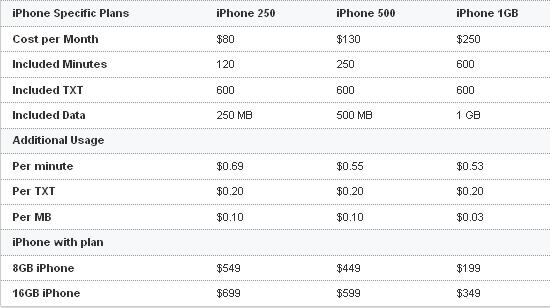 iPhone 3G's launch is just 3 days away and due New Zealanders will be first people to get hold of new iPhone. Due to New Zealand's graphical location Vodafone will become first company to sell iPhone 3Gs at 12:01 a.m. (New Zealand's local time). Vodafone will kick off iPhone 3G's sales at three local stores in New Zealand, Auckland City, Wellington, and Christchurch. Vodafone has announced three 24-month plans for iPhone. Plans vary from $60 ($80 NZD) to $189 ($250 NZD) per month.
For $60 per month one can get 120 minutes of calling, 600 messages and 250 MB of free data. With iPhone 250 plan iPhone will cost $415 ($549 NZD) and $528 ($699 NZD). Mid-range plan by Vodafone is set to add $98 ($130 NZD) to your bill per month. iPhone 500 plan includes 250 minutes, 600 text messages and 500 MB of data. With this plan iPhone 8GB or 16 GB can be yours after paying $339 ($49 NZD) or $453 ($599 NZD), respectively. With $189 ($250 NZD) per month iPhone 1GB plan is most expensive plan for New Zealanders. It offers 600 minutes, 600 text messages and 1GB of data. With this plan iPhone's cost drops to $150 ($199 NZD) and $264 ($359 NZD) for 8 GB and 16 GB models, respectively.
Vodafone is also offering iPhone 3G 8GB and 16 GB models without any contract for $740 ($979 NZD) and $853 ($1129 NZD), respectively. For no contract iPhones data plans are available for prices $22.63 (NZD $29.95) or $37.74 (NZD $49.95) for 200MB or 1GB of data per month, respectively.
Extra minutes are priced between $0.40 and $0.52 ($0.53 – $0.69 NZD) depending on your plan. Text message costs $0.15 ($0.20 NZD) and data is priced at $0.075 ($0.10 NZD) per MB for first two plans and $0.02 ($0.03 NZD) per MB.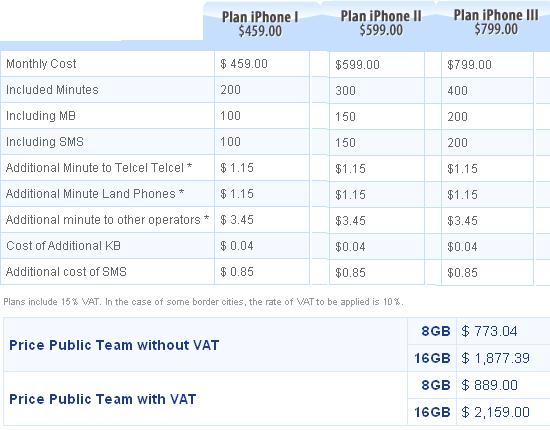 Telcel of Mexico is another company to roll out plans for iPhone with 24-month contract. Their entry-level option will cost $44 ($450 MXN) per month and offers 200 minutes, 100 text messages and 100 MB of data. iPhone 8GB comes for #331 ($3419 MXN) and 16GB model for $454 ($4689 MXN). Mid-range option costs $58 ($599 MXN) per month, fetches 300 minutes, 150 text messages and 150MB of data) Costs for iPhone 8GB and 16GB goes down to $209 ($2159 MXN) and $331 ($3419 MXN), respectively. Costliest plan demands $77 ($799 MXN) per month for 400 minutes, 200 text messages and 200 MB of data. iPhone 8GB costs merely $89 ($889 MXN) and 16GB one is available for $209 ($2159 MXN).
Extra minutes will cost you between $0.11 ($1.15 MXN) to $0.33 ($3.45 MXN) depending on your call. Extra data is priced at $0.003 ($0.04 MXN) per KB and message costs $0.08 ($0.85 MXN)
Via: appleinside, vodafone