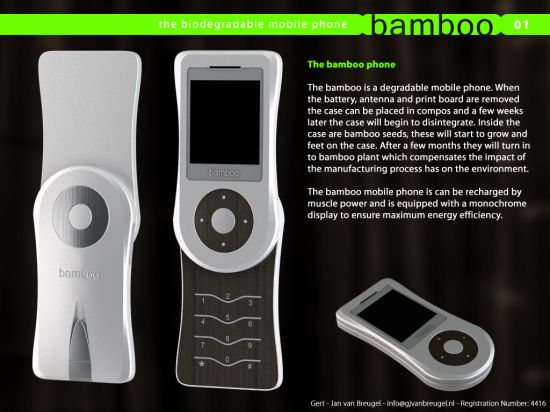 At no point in the evolutionary stage, Bamboo plant would have gone, 'yeah I'd use a mobile phone to disperse seeds.' Gert-Jan van Breugel from The Netherlands believes that we ought to lend a hand in the natural processes and his concept Bamboo is a bio-degradable cell phone.
Taking recycling a notch higher, Bamboo uses bio-plastic, derived from corn, and bamboo plant. The phone also carries bamboo seeds within and when the users get tired of the phone, they may simply remove man-made components like bio-plastic, battery, antenna and print board and place the thing in compost. Few days later the seeds would have dispersed and the phone will turn into a plant.

The Bamboo phone also seeks to turn over anew life in manner of charging it. The phone is equipped with a cranking charger. Expend three minutes on turning this and there's enough juice to make, er, one call. Technically though this means as long as our muscles function, we never run out of power. A monochrome display ensures that we are not called too often to work on that crank.
Several companies (Nokia anyone) are trying to go in for greener concepts and yet I'm yet to see a phone that comes as close to nature as this does. I mean growing plants, that's gotta be something very new?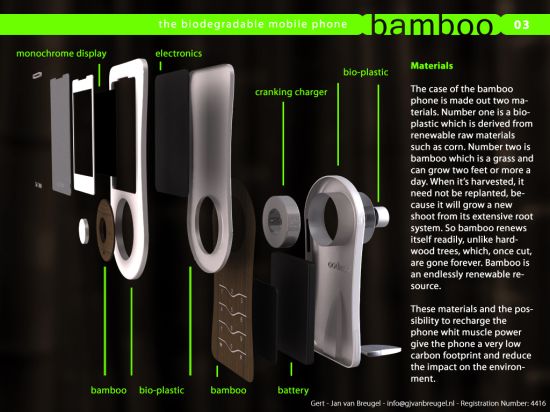 Source: Cells4All