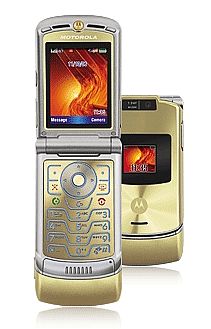 AT&T has unleashed a new golden version of the Motorola Razr V3xx. No, it's not made of pure gold, but has a gaudy gold color finish.
The cellphone does not have any additional features than the original grey one. It features a 1.3-megapixel camera, a music and video player, stereo Bluetooth, microSD expansion slot, built-in Opera web browser and support for HSDPA networks that enables it to stream at a lightning speed of 3.6Mbps.
The cell can be purchased with a contract for just $99.99 that is just $20 above the gray version.
Via: crave