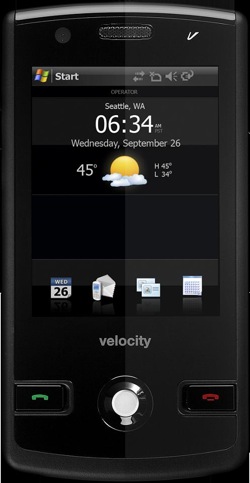 Target Audience: General Consumers looking for a Windows Mobile touchscreen phone
Should they buy it? Yes
Why? The Velocity 103 is another touchscreen Windows Mobile phone. What makes it tempting for the users is its Odyssey Interface, Qualcomm's super fast MSM7201 chip for seamless messaging and browsing experience, TV/VGA to tune on to your favorite TV programs easily on the move and the 'Velocity Over The Air' feature to receive instant updates.
Technical Specifications: Windows Mobile 6.1 Professional OS, GSM 850/900/1800/1900MHz and UMTS 850/1900/2100MHZ connectivity, GRPA/EDGE/HSDPA/HSUPA/WiFi support, 2.8-inch 262k color TFT, VGA 640 x 480-pixel resolution display, 2MP camera, second camera for video calls, video capture/playback, MMS/SMS, Bluetooth, 256MB ROM, 128MB RAM, microSD memory card slot, 4hours of talk time and 8.25 days of standby time.

Pricing and Availability: Velocity 103 will be launched in UK this month and the unlocked device will be available for ₤324.99 online from Expansys.
Via: Gizmodo