Known for its stylish handsets, Motorola is coming with its new MotoRokr Z6m mobile phone with an exclusive XM Radio Mobile Cell. The new MotoRokr Z6m mobile is available at Alltel Wireless. The Motorola MotoRokr Z6m stylish slider is perfect mobile phone for music lovers.
The new MotoRokr Z6m comes with an integrated MP3 music player with up to 2 Gigabyte of optional removable memory for the ability to store more than 10000 songs and 3.5 mm headset jack.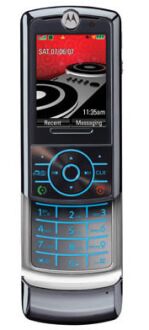 MotoRokr Z6m comes with Bluetooth connectivity as well as USB 2.0 high-speed connectivity for fast file transfers. The other features of The MotoRokr are given below:
1. A "Tattoo" on the back of the phone and keypad
2. TeleNAV GPS Navigator
3. Axcess Search – Search for information by holding down the pound
4. Stereo Bluetooth support
5. 2 megapixel camera
6. Video capabilities
7. Expandable optional removable memory slot
8. 3.5 mm headset jack- for using your own
In addition, the new MotoRokr also supports wide range of audio formats including MP3, AAC, AAC+ and WMA. This stylish music phone comes with Alltel's exclusive award-winning Celltop technology, so that users can easily manage and organize a wide range of information.
It also includes 2 megapixel camera with video capabilities. With the in-built TeleNav GPS navigator, MotoRokr delivers a powerful and easy-to-use navigation tool for wireless phones. Users can buy Motorola MotoRokr Z6m for $129.99 after $100 mail-in-rebate.