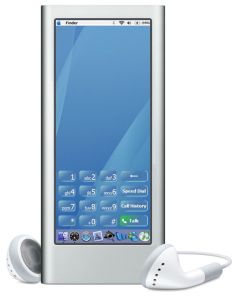 It has become one of those things were the owner will like the rumors and would not want to part with the extra info and the rumors are indeed flying thick and fast.
But once if ever it gets launched there is going to be one madding rush to be the first to get it and use it.

iPhone is becoming such a hot commodity before its launch that not a day passes without speculations like 12 million phones to be produced for the launch or iPhone should have compatibility with PC or what is the OS for the iPhone.
Looks like the Macworld 2007 has become the most important conference for the gadget geeks.
Latest to join in with a new thing is T3 it says that iPhone will use the Apples Gen. next OS called OS X Leopard. The phone will be a iPod and a mobile with added features like you can Chat and even scan iTunes on the go.
Via: T3