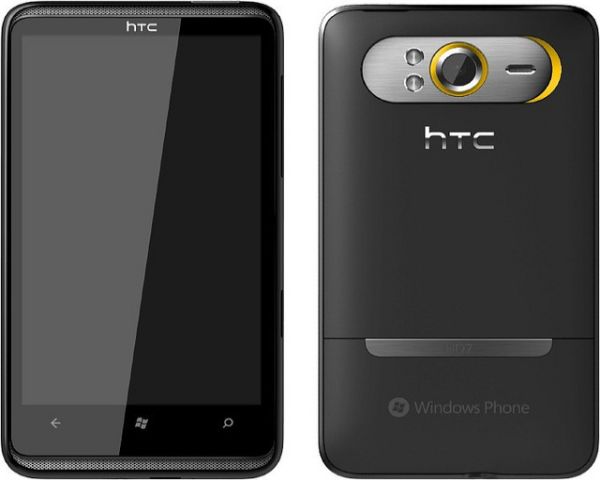 HTC HD7 is a leading Windows Phone smartphone from the Taiwan phone maker. The device has attained large popularity as a Windows Phone-based device over the months. HD7 highlights Microsoft's special mobile features like Xbox Live gaming, MS Office and Outlook syncing. As far as hardware is concerned, the HTC Windows smartphone is with a 4.3-inch LCD capacitive touchscreen that has a resolution of 480 x 800 pixels at 216 ppi. A High Definition camcorder and many other entrainment features make HTC HD7 really a champion phone on market. Here are the five exciting things about HTC HD7, one of the first successful Windows Phone smartphones.
1. Center of attention
HTC HD7 has been the center of attention being one great Windows Phone-based smartphone. Microsoft is working hard to make its Windows Phone mobile OS a leading platform in the world confronting with Google Android and Apple iOS. As part of it, the company has been bringing out more advanced versions to its Windows Phone OS. Of course, the Redmond-based firm, which is behind the world's most popular computer operating system Windows, has the capability to bring success for its mobile OS. The operating system has brilliant apps such as MS Office, Xbox Live and Outlook, which really don't have any alternatives in the world. With all these features, HTC HD7 has been in the middle of attention over last months. The Windows Phone-based HTC smartphone came to existence early this year even if it was announced last year.
2. Clean, uncluttered interface
Windows Phone has a breathtaking user interface. Unlike iOS and Android, Windows Phone features a tile-based home screen thanks to its much-touted Metro UI. The Windows Phone UI highlights tile-shaped icons for each app. These icons are with ample space for updates related with the particular app. For example, the e-mail app on Windows Phone will show you the new mail updates on home screen itself. It means you can see whether you have a new-email with a look into the home screen itself. There is no need to always open up the applications to check for new updates.
3. 16GB of on board memory
HTC HD7 has two flash memory options; 8GB and 16GB. The second option will be a blessing for a user, who has lots of data to store in the device. You can store music, images and videos with no anxiety over memory capacity on a 16GB HD7 smartphone. Most of recent smartphones come with ample memory space. Of course, it is crucial in a time people have to store loads of data; both entertainment and official in their handsets.
4. Multiple MS Exchange server accounts allowed
The HTC smartphone supports multiple MS Exchange server accounts. MS Exchange server support is, of course, one of significant things that give score for Windows Phone. On HTC HD7, we now have the option to sync multiple Exchange accounts. Thanks to the feature, you can keep open multiple email accounts on the phone. As well, syncing with Google calendar and many similar apps will be far smoother on the HTC phone.
5. HTC HD7 unboxing (accessories)
HTC HD7 comes with all standard accessories. While unboxing the device, you will find a USB charger and a micro USB cable along with the smartphone. Besides the user manuals, the package contains one-piece headset. You can also use other headphones with the device that has a 3.5mm audio jack.
HTC HD7 has gained large popularity especially because of its Windows Phone factor. The new mobile operating system is on its budding stage. However, people have embraced the platform and they welcome new products on Windows Phone. HTC has intelligently taken advantage of the Windows phone frenzy on its initial days with phones like HD7. The company has now announced products like Radar and Titan for the most recent Windows Phone 7.5 Mango update. Of course, the Taiwanese technology maker could gather some significant profits from its Windows Phone smartphones. HTC HD7 is rightly the company's debut on Windows Phone.