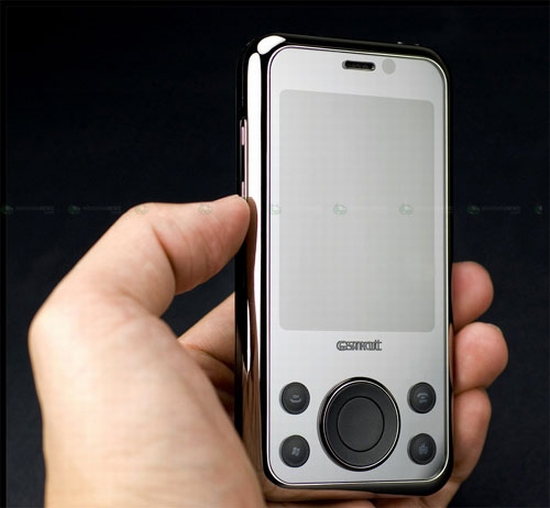 With more and more mobile phones coming with 3G connectivity, 3G is quickly becoming one more boring feature. To retain the novelty value and to also push the technology envelope to the next level, Gigabyte has pulled off a smart move with the smart looking GSmart MS808, a 3.5G mobile TV phone that is one step further from the current DVB-H mobile TV technology. Simply put, 3.5G is the new even more advanced mobile network which is seven times better than 3G.
The 3.5G network which relies on the HSDPA supports download speeds of upto 14Mbps and upload speeds of 1.8Mbps which is way faster than any 3G network, which does downloads at 384Kbps and uploads at 64Kbps. So, as the GSmart has 3.5G, this means that you can watch live TV with almost zero transmission delay and clearer crisper higher definition pictures. High Definition mobile phones will soon be on their way. To make the GSmart tick, Gigabyte have added a GPS module and a powerful 624MHz Marvel processor. All other voice and text features are standard, like in any normal phone.
HSDPA, W-CDMA, EDGE and E-GPRS networks are supported by the Quadband GSmart along with a 3 megapixel camera. Using the metallic trimmed, stylish, GSmart is going to be a breeze with a 2.8 inch VGA Touch screen like the iPhone and the Windows Mobile OS. To round it all off, Gigabyte has also put in a WIFI module for Internet and network access making the already smart Gsmart, smarter. Expect the Gigabyte GSmart to hit shopshelves in the fall of 2008.
Source: AkihabaraNews, 2dayblog