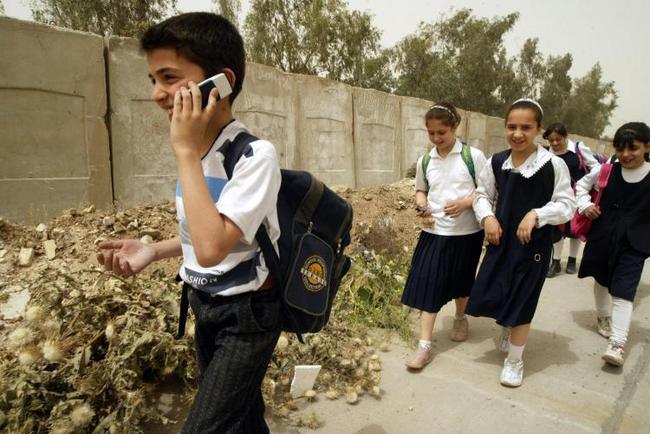 Cell phones are one of the biggest revolution world has seen in this decade. From a rich-man's privilege, it has become a common man's necessity. Cell phones are not just phones now, you can check your mail, click an HD snap, listen to your favorite number, and what not; anything and everything can happen over a latest mobile phone. Lot of children are using cell phones now a days, and there are companies making phones just for kids. However, there are some safety rules to be enforced on with the kids using cell phones, let us try to look at some of them for the parents to take into consideration:
1. Stop typing while talking to someone
It is a very common sight that our teenagers get glued to their messaging while talking to a person sitting next to them giving them the least attention they deserve. It is the basic decency to pause for a minute and give proper attention to the person who is next to you. You can go back to your typing after talking your conversation as it is not like verbal communication and you can resume it at anytime you want and the text will be intact for any long.
2. Do not sleep with the cellphone
Parents should make it a point to keep the phones away from kids when they go to bed. Keeping a cell phone while going to bed would tempt the kids to talk with their friends for long time and this can in turn disturb their sleep.
3. Should not borrow or loan out your cellphone
Kids should be told not to loan out or borrow each others' cell phone unless it is a real emergency. Since the cell phone bills are expensive, it can really fall hard on parents' pocket when overused.
4. No phones on the dining table
It is very important to have your family time together without much disturbance. So make it point not to keep the cell phones on the table because it would tempt your kids to keep doing something with it and can spoil your togetherness over the table.
5. Finish homework before using phones
Teenagers should be discouraged to use cell phones until they finish their homework. Mostly parents would allow kids to use phones thinking it would take only a minute or two, but it would even take hours before they start with their homework and in turn leaving their homework half done.
6. Got to be very careful with the camera
It is very important to make kids understand about the careful use of camera. They should not be, at any cost, encouraged to take their siblings' or friends' embarrassing photos (like half-naked, etc.) because it is very dangerous if they unknowingly get it circulated. So be extra cautious about using cameras.
7. Should not use cellphones while in a church or in a hospital
As parents, you should teach the kids the importance of not get disturbed while on a prayer. Should ask them to switch off and keep the cell phone in their bags before they enter a hospital.
8. No phones on a family get togethers
Kids should be asked to keep away their cell phone when they are on a family get together and give all the attention in being together.
9. Charging up the batteries
Charging up of batteries can be made a part of their personal responsibility by keeping a specific time for that. However, it can be left to the kids to fix the time.
10. Absolutely no cellphones while driving

It is very important to keep away or switch off the mobile phone while one is behind the wheels. Using a cell phone while driving can easily distract their concentration and can end up in very dangerous situations. Using a Bluetooth device is a better option than driving one-handed.