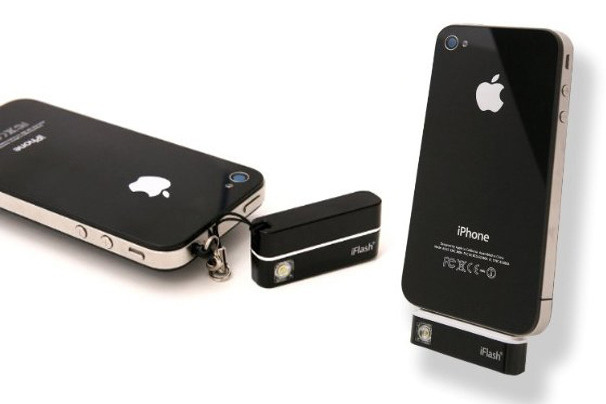 iPhone has recently broke the barrier in Flickr and came out as the most used camera in the world to publish online photos. This set a trend that sees more creative usage of the iPhone camera with each passing days. The iPhone 4's five megapixel camera does justice to the phone and snaps reasonably well photos. Rumour wise the upcoming iPhone 5 will be having a stunning 8 megapixels camera that will shoot even better photos. But, there are always rooms for improvements and that is the reason why iPhone camera accessories are here to take your iPhone photographic experiences to the next level.
Kogeto Dot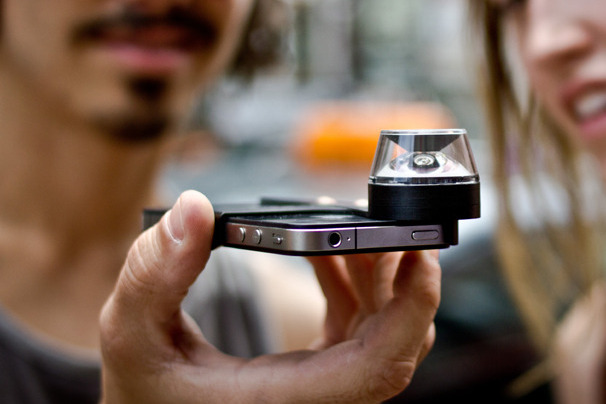 Kogeto Dot's snap in accessory for iPhone 4 gives it the ability to shoot from 360 degree panoramic angle. A boon for panorama shooters, Kotego Dot comes with Looker, a free iOS based companion applications available in iTunes store. It is also available in black, pink, red and green colours and has a price tag of $79.
Olioclip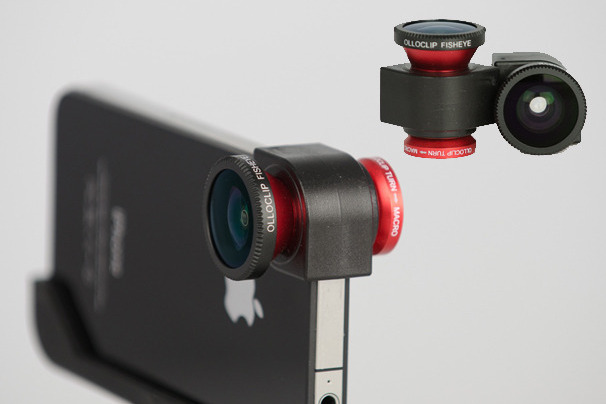 Olioclip is not a single function device but rather contains three different lenses that enable fish-eye, macro and wide-angle shots from your iPhone 4. It just clips efficiently on the side of iPhone 4 and comes in red and black colors for $70.
SLR Mount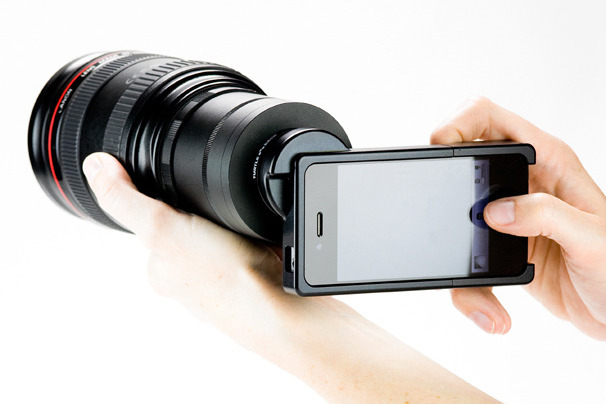 The big daddy of iPhone camera accessories, SLR Mount from Photojojo actually lets you use Nikon or Canon SLR lenses with your iPhone camera! Though it sounds crazy, the system actually works with a few small tweaks guided by Photojojo and comes for $249.
Factron Quattro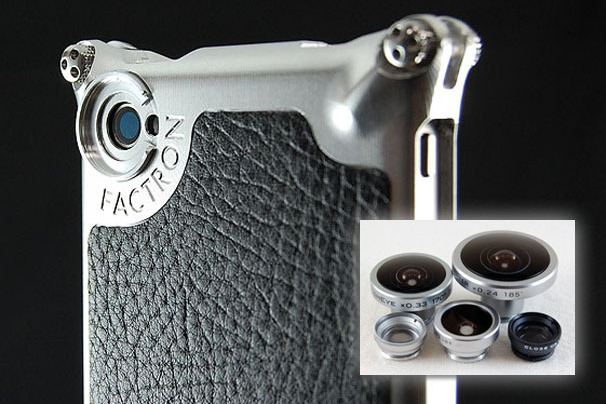 An aluminum based case for iPhone 4, which also serves as the lens mount for several lenses made by Quattro. The case also comes with calfskin leather backing with different styles and colors. Though the system looks elegant and works good, Quattro warns that it may interfere with normal operations of iPhone 4.
Fixed optical zoom lens

A fixed 6x optical zoom lens is available for iPhone 4, 3GS and iPhone 3 from USB Fever. Since the lens has a fixed optical zoom, this is literally a telephoto lens for your iPhone and designed only for photographing from a distance. The starting price of this zoom lens is $19.
Glif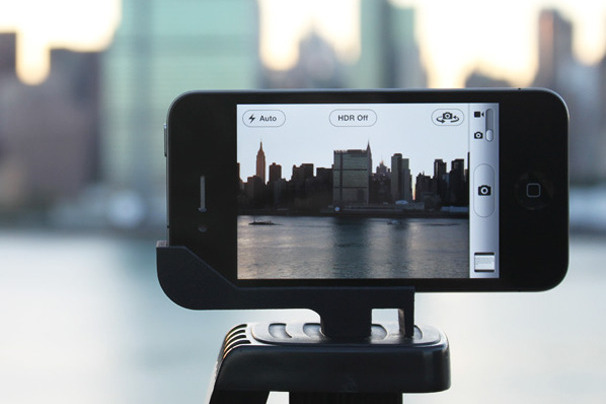 Ever thought that your photos and iPhone snaps are getting ruined because of shaking and jerks? Look no further, Glif from Studio Neat is there to rescue. It offers a simple tripod mount for your iPhone 4, which can also be used for tabletop photography. The tripod is available for $20.
Camera photo lenses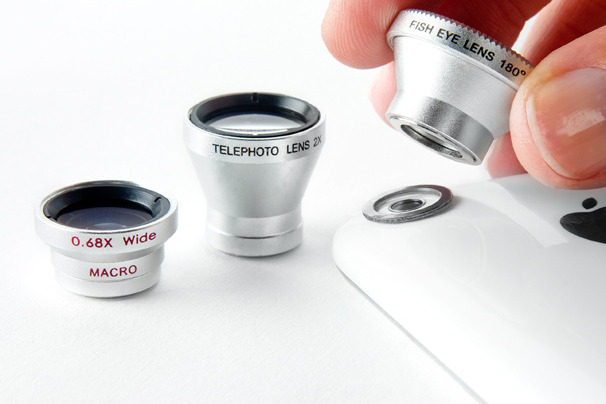 Another set of quality products from Photojojo, a system of three lenses – one fish-eye, a 2x telephoto and one macro/wide angle lens can improve the photos taken form your iPhone camera. The set uses a detachable magnetic ring which can be fixed on the top of your iPhone lens for fixing the three lenses. The whole set is available for $49 while each lens is also available separately for $20 each.
GorillaMobile for iPhone

This one comes from Joby, the famous makers of Gorillapod system of flexible tripods. You can attach your iPhone on a GorillaMobile and let the flexible tripod to cling on almost every surface or tree branch or a metal pole or something else enough to support your iPhone's weight. It gives you to shoot from unusual angles that add to the quality of the photos. GorillaMobile is available for $30.
iFlash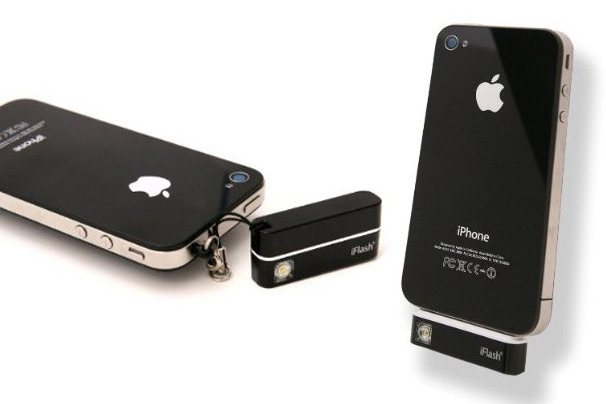 As the name suggests, iFlash is a take on added external camera flash for any iPhone model. It consists of an LED Camera flash that can be attached to the iPhone using standard port on the phone. The flash system does not have external power source and drains power from your iPhone. It is available for $13.
Griffin Clarifi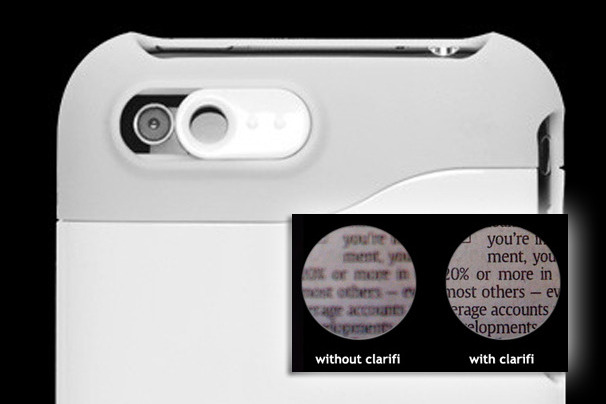 Popular case maker Griffin has come up with their Clarifi system which claims to increase the camera resolutions for older iPhones like iPhone 3G and iPhone 3GS. It can be used to photograph objects as near as 4 inches from the lens with improved clarity. It is available for $10.