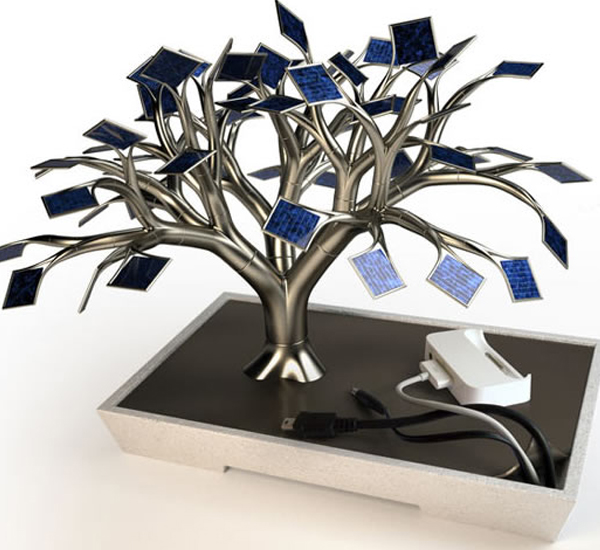 The days of electric charges are gone. Now, people prefer compact and user-friendly chargers that can charge multiple devices on the go without even using electric source. Most of such chargers are portable that can be used anytime and anywhere, while some are still concepts and we wish they are made available soon to the world. With these stylish and cool chargers, you will never go "power-less" again:
1. Solar Tree Charger by Vivien Muller: This solar tree charger is just a concept and we are not sure if it would be launched in market. Yet this charger by its concept is very eco-friendly. This solar charger is in the form of a tree which is composed of 54 small square PV cells. The branches of the solar tree are made of detachable pieces so that it can be converted according to the use. The energy is concentrated on PV cells. The PV cells generate a small amount of energy which charges the battery and in turn charges the gadget connected to it.
2. Power-mat wireless charger: The power mat is a wireless charger which can charge up to 15 different devices using a variety of dongles or cases. It is available in two different versions – one of them is a fold-able type while the other is a standard desktop version. The power mat also provides wireless transfer of data like audio and video between devices and is available for a price of $99.
3. Rubik Cube Charger Concept: Shaped in the form of Rubik cube, this green charger harvests natural energy for a sustainable charge. The charger works on the principal of electromagnetic induction which allows it to harvest most of the clean energy whenever it is in use. The obtained energy can later be used for charging devices.
4. Zaggsparq Portable Charger: The Zaggsparq is a portable charger cum battery which is provided with a 6,000 mAh lithium polymer battery. It is provided with two USB ports which can simultaneously charge two electronic devices. This device is available at an affordable price of $99.99.
5. Bracelet Charger: This stylish charger in the form of bracelet is kind of attractive. This smart charger charges the devices in just 4 hours and gives a backup battery of 22-29 hours. So, now you can say bye-bye to the old long wired chargers as they can be replaced by this compact one. It is priced at $43 and is worth of a deal.
6. IPhone charger yo-yo: For all the iPhone fans, here is a green device that can charge your iPhone and iPods on the move. The battery is a lithium-ion and is enough powerful to charge your devices simultaneously when they run out of battery. Shaped like yo-yo, it is quite appealing and attractive.
7. Fuel tank UNO: This compact charger will never let your gadgets run out of battery. Compact size with powerful battery is what makes it a perfect charger. It can charge a gadget without use of any outlet. This Fuel tank charger will cost you anything around $39.95.
8. Para sync Charger: Call it a dock as it can charge up to 20 iPhones or iPods or other devices in a single go with a USB cable. It's not a home use product though but one can utilize it in an industry, as many people there would require it at some certain point of time.
9. Toaster charger: Shaped like a toaster, this charger designed by Hyun-A Ko is called a "Toaster charger". The concept of the charger is very clear as it uses a lithium ion battery with a powerful backup which can give your devices a boost when they desperately need one. Like a toaster it also pops put the battery once it is fully charged and also shows a green light which indicates that the battery now can be used into your device back and is ready for another recharging.
10. CVFR-S09 Solar Vest: Last on the list is a solar vest which is a wearable jacket that recharges your favorite gadget on the move. Equipped with 4 panels and built with a 8,800mAh powerful battery, it can charge the device in a very less time. The devices can be charged via USB power input. It is priced at an affordable price of $126.