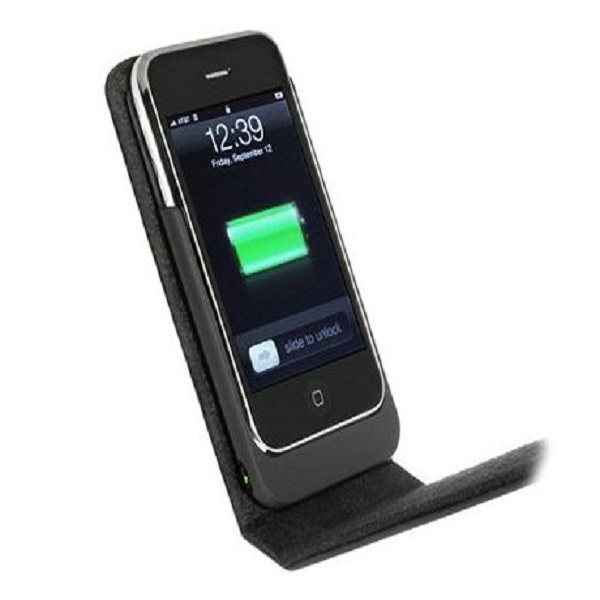 In this era of technology, almost everyone prefers to own a mobile phone. The needs obviously varies but two things we all want to ensure is that firstly, it should not run out of the battery especially when you need it the most and secondly, this little gadget should not break if dropped. For which protective covers capable of recharging the battery is an ideal solution. Though there are many such cases are available in the market, listed below are 10 cases that are sure to provide protection while boosting the battery of your cell phone.
1. China Grabber solar powered cell phone charging case
Priced at $33, China Grabber is an amazing solar powered mobile phone charging case, which comes with a built-in 2500mAh lithium battery. If charged for approximately 1hour from a normal wall socket it provides a battery backup for about 100 minutes. And in case of outdoors it slowly gets charged using solar energy due to the integrated solar panel.
2. Gemline Reactor solar charging case
Available in black color, Reactor solar charging case features solar panel to recharge battery using natural resource. It comes bundled with a USB adapter, four rechargeable batteries, AC adapter, four mobile phone adapters and a power box. It is an exclusive portable solar charging case, most suitable for travelling professionals.
3. iPhone solar power charging case
All those who love to keep an iPhone will certainly be disappointed with its battery life. Now there is a perfect eco-friendly solution to ensure that your iPhone's battery is always in place. The Solar Power Sleeve lets you re-charge your iPhone using solar energy. You simply have to slide the phone into the case and the charging starts immediately. If the sun is not showing up, you can charge the iPhone using car adapter, computer or a wall socket in approximately 3 hours. The case features a 2100mAh battery, a mini USB port, and an emergency charging slot to re-charge other devices using Solar Power Sleeve, if required.
4. Defender iPhone4 charging case
Specially designed for iPhone4 users, it is a portable charging case that provides life to your mobile phone using solar power. This eco-friendly product can be really helpful in case of an emergency and while traveling. Priced at $25 it comes in a transparent plastic gift box.
5. Monster Cable iPhone charging case
Certified by Apple, this iphone charging case features a beautiful rugged leather skin to protect delicate phone surfaces. Due to an in-built 1800 mAh lithium battery, it ensures double talk time and the use of other entertainment applications as well. The charger can be operated using a simple on/off button on the case. Besides this, it also boasts off a LED status light to indicate the left over power and a cut camera lens hole to use the camera while the phone resides on the case. It can be bought at a price of $99.95.
6. Plantronics Discovery 975 charger case
Available at a price of $49.99, it is a storage case cum charger for the Plantronics Discovery 975 Bluetooth Headset. It provides a charge to 975 before the battery runs off and also features and indicating light at the bottom of the case. While charging, it flashes red and once completely charged, it turns off. It comes in a beautiful black color and offers complete protection to your device.
7. Xpal iPower 2 portable battery case
Providing additional battery for Apple iPhone, iPower 2 is a fantastic product that does not interfere with your work, you get access to the display, buttons and ports even while in use. It is available in black or white color at a cost of $16.99 and weighs only 68 grams. It is equipped with an indicator to reflect the level of charged battery and an electric and thermal protection system to ensure safety. Featuring a 1200m Ah battery it is capable to offer four additional hours of surfing, six hours of talk time, twenty hours of music or 255 hours of standby mode.
8. MiLi Power Spring 4 world's thinnest battery charger case
As the name suggests it is the world's thinnest iPhone 4 protection case that also offers a battery charger to double the life of the battery. Currently available at a discounted price of $72.95, the MiLi Power Spring 4 features a sleek look and can be easily fitted into your back pocket while offering protection to your iPhone from scratches. The technical specifications include 1600mAh battery and an output of 5v-0.5A. Once charged the phone can be kept for up-to 360 hours on a standby mode while 6 hours on 3G and 13.3 hours on 2G of talk time can be used.
9. Exogear Exolife iPhone 4 rechargeable battery case
It is a sleek polycarbonate hard-shell case which offers protection against scratches and drops. It also brags about Exoclear technology which makes sure that nothing interferes with iPhone 4's reception. To support additional 7 hours of talk time, 300 hours of standby or few hours of other entertainment applications, the case comes with an in-built 1500mAh lithium polymer battery. The meter at the back of the case indicates the requirement of recharging. It can be bought in either black or white color and features a USB post for charging and sync.
10. Energizer AP1201 rechargeable iPhone 4 battery case
Offered by Energizer, AP1201 is a rechargeable iPhone battery case that comes with a built-in battery to extend the battery life to nearly twice the power of the iPhone and also protects the phone from scratches. Power levels are displayed on the back of the case via hidden LEDs.
For charging, it requires a USB cable which is included in the pack. Priced at $69.99, it features a battery that can be recharged up-to 500 times.