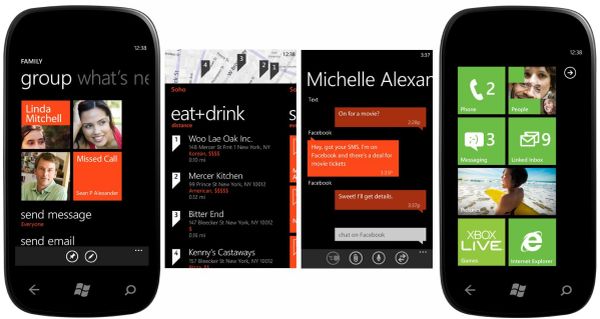 Windows phone 7.5 which is codenamed as Mango is a software upgrade of Windows phone. Mango has over 500 upgrades from its previous version and this is a very welcome change as currently in mobile market Google's Android Ice Cream Sandwich and iPhone 5 Operating System is coming. Also BlackBerry smart phone got a major boost up with its new BlackBerry OS 7. Windows 7.5 or Mango has various new features and also has a lot of fixes over its predecessor. These updated were first announced in the month of May at Microsoft Press Conference. Then in September 2011 Mango was officially launched in the market. So is it good or still there are issues with this mobile OS? Let's find it out:
1. Unified Messaging
Users do not have to worry about messaging history as using unified messaging one can view all the sms, live messenger, facebook conversations in a single window whenever they want. Only issue in here is that it dose not support any third party applications such as Android OS.
2. Multitasking
A major change in Mango is the capability of Multitasking which works fine and better than the Apple iOS or Android. One can select and update an application for multitasking and then while users can listen to music, they can work on e-mails, or edit some photos, or messaging in Facebook. If there are many applications is running then the OS automatically switched to battery Saver option to save the battery life by closing some applications such as WiFi.
3. Social Networking
Whenever we talk about social networking, Google Android comes to mind. But this time Mango has edge over others. It already has inbuilt Facebook and Twitter as well as LinkedIn. One can find all of them under the Contact Hub and they are nicely placed. Under the People menu one can find out what others are saying about your photos on Facebook/Twitter. Also to post one has to go to Me Tile. This works perfectly without any complications.
Updates from Twitter and Facebook can be seen through the notifications and one can also view the notifications from the past as well by simply selecting the date. Also through Group facility you can select your friend circle, family circle etc and post to any of the group which the other cannot see. Also sharing of photos or videos are now a fun thing to do. One can just select the photos and put them in the SkyDrive. From there one can easily share the photos.
4. Photos
Camera interface has now been improved a lot. This is not the BEST but still it is better than the competition because there are some nice improvements in the screen. The camera automatically save the preferred settings of yours and each time you take the photos it will take them with preferred settings. There are options to change the preferred settings as well. There is also an autofix option which can correct a image and improved the quality of the photo.
5. Internet and IE9
Internet Explorer 9 is the same as it is used in Windows 7 operating System. This is a great browser with lots of functions and features and with added security for safe and secure browsing experience. It has inbuilt Chakra JavaScript so one can use Google docs, mobile banking transactions very smoothly. All of the pages are opening very fast and smoothly. This browser only does not have any Flash support.
Browser interface has been worked on so that users can now see more of the webpage. This Also it is inbuilt with Widows Phone 7.5 for more calling options. One can use their windows 7.5 phone as a internet hotspot as well by sharing the connection seamlessly with laptop, desktop or other devices through WiFi connection,.
6. Calendar
Now with the help of Mango you can view calendar from Windows Exchange server, Facebook Calendar, Outlook Calendar as well as events and reminders for you to work on. Apart from that if you use service such as travel plan, or calendar of your family then you can download those applications in your Mango and view the calendar for the same. This makes it easier to manage the time and plan ahead. Now you can also tap on any date to add events or reminders as well.
7. Office
One of the strongest selling points for Microsoft is its Office Suite. Now Microsoft office has been integrated to Mango and this gives edge on other operating systems. Word and powerpoint has new templates to work on, also Excel has neat and clean interface. Just like desktop version of Office, this office also has Auto Correct option while typing which comes in handy.
8. SkyDrive
SkyDrive is a new service offered by Microsoft. This is an application for cloud computing. Using SkyDrive one can store all their documents, photos, contact list in the SkyDrive. This SkyDrive can be accessible from anywhere in the world with an internet connection. This is a great feature as now users don't have to carry all their documents with them as they are already stored in the 'cloud'.
9. Voice Command
Now you can talk with your phone! Now you can search anything using your voice and BING search engine. You can also search applications from windows marketplace using your voice command. At the same time one can dictate facebook message and can listen to the replies of their post in facebook.
10. Music with Zune HD
Microsoft launched Zune as a portable mp3 solution but failed earlier. But this time it has integrated the Zune HD player and facility in its Mango and it is a blast. One can get smart DJ mix for a song to get another dimension to their favorite music. The player controls are also better and larger for easy navigation. With the help of Zune HD one can also view HD video. But the winner is in here is the Zune player. It can play almost any kind of music format and one can download songs from marketplace and at the same time they can listen to them without any jarring effect.