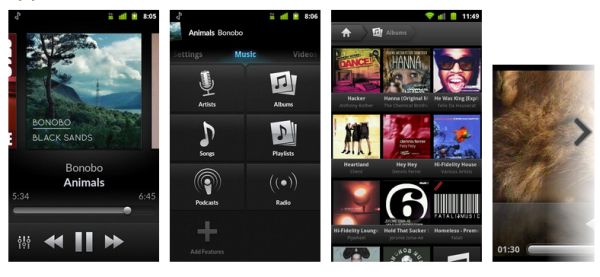 Today, Android is the talk of the town and people are going gaga over this new age cool operating system for smart phones. The plenty of features along with millions of apps make this operating system so popular among youth and businessman. These Android operating phones are quite cheap and can offer plenty of stuffs. iPhone is a craze among masses, however, hardly few can afford it due to its high price. These days plenty of apps are being created in order to transform the looks and functioning of the Android phones so that they meet the style of iPhone and Mac.
Mozilla firefox
The browsing experience is what is being most preferred in a smart phone. The Mozilla Firefox mobile browser is one of the fastest and lightest browsers available for the Android phones as well as iPhones. It is loaded with plenty of features and most of them are same as that of the desktop version.
Double twist
The DoubleTwist is an all in one music app that lets you sync music from the iTunes playlist along with the ratings. It can import the whole library in seconds and offers rich sound quality and performance. It was ranked number one in Newsweek's Top 10 Android apps for 2011.
Wunderlist
This app is a free cloud sync task manager which allows the user to make changes and perform plenty of operations on the go. Also, it can be used to share the lists with friends and colleagues. It can enhance the productivity of the phone and allow users to modify the tasks on windows, Linux, Android, iPad and the web.
Evernote
The Evernote is one of the best apps in the Android market which can turn your phone into a brain extension box. The ideas, notes, videos, snapshots, and other important stuffs can be easily saved on this app thus saving time. It also offers an easy synchronization from phone to your Android phone or Mac or Windows.
Dropbox
The Dropbox is another organizing based app which allows users to bring all their favorite snaps or documents to wherever they want. It can wirelessly sync with the PC and allows the transfer of data pretty quick and safely. It also offers an online account where people can save their important docs and snaps and can access it from any part of the world.
Astro file manager
This file manager is one of the easiest and simplest file managers which perform plenty of tasks quite smartly and quickly. You can easily move your files, organize them, and sort them out on various regards using this app. It also allows sharing so that you can share some facts or any ideas with your friends and families.
Remote for itunes
This is an app for all the iTunes fan out there. This wireless remote app allows the user to make changes and to play their favorite song from any part of the room. So now if you are taking rest on your bed and want to make a change in the list of songs, you need not bother getting up, just use this app and do the changes. It is simple to use and can be wirelessly operated in any corner of the house.
Dolphin browser hd
The browsing experience is highly demanded in a Smartphone and this Dolphin HD browser is what makes the browsing experience rich, simple and effective. The multi tab browsing is easily accessible and also the stunning quality of pictures it delivers makes this browser way better than other browsers available in the market. It is also loaded with plenty of features like note editor, text copier and gesture reader.
Seekdroid
This app is a complete security app which can search the phone if stolen, from any part of the world. It has a GPS feature which allows the user to track down the mobile phone. It also comes with security features which can completely wipe off the data if you have lost your phone somewhere.
Syncmate
This is a perfect app to sync Mac with Android. It is light and simple to use and allows plenty of features like easy data transfer, contacts synchronization, calendar, folders etc. The app can sync between systems using a Wi Fi network, USB or Bluetooth.