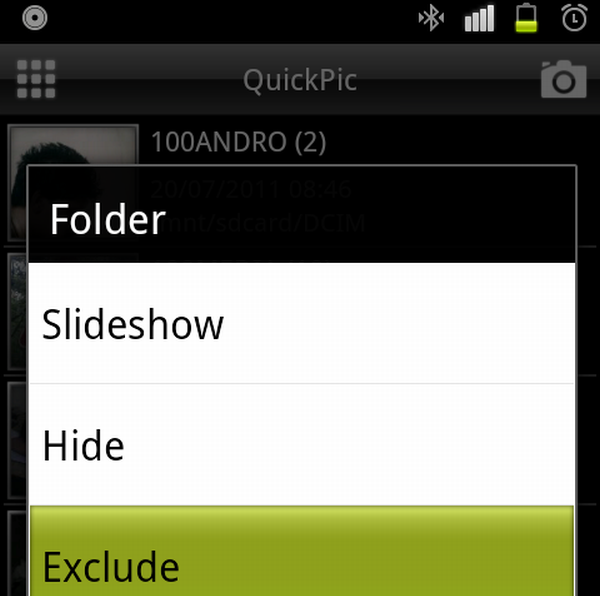 Android phones are very popular these days and we all have a blast using them on a regular basis. But probe deeper and you will find a few annoying problems with its default gallery. The image browser can be very slow while you load and refresh content. They also have only the basic functions and not higher level features and protection that you want for your photos and videos. If you are looking at some other options for an image browser for your Android phone, here's one to checkout along with its features:
In this world of hacking and phishing, it is important that you keep your personal photos and videos secure and locked in your phone. The basic applications that come with Android phones do not offer any option for securing your photo albums, leaving your private photos vulnerable and prone to fall in the hands of malicious souls.
QuickPic is an application that comes free for Android phones. QuickPic allows you a no hassle platform where you can go through the entire contents of your memory card in one pace. Photos and videos can be accessed from QuickPic and if you want to look at thumbnails of the images and photos, QuickPic allows you to do that, quick and easy. Along with this simple platform, it also offers many other features that come in handy for managing the contents of your Android phone better.
How does QuickPic work?
When you need to browse through your Android phone contents, especially the images, launch QuickPic from the applications menu. QuickPic will browse through the contents in the memory card of your Android phone and generates thumbnails of all the images that it can find. This could take some time if your memory card has many images stored. This could be the only time when you feel that QuickPic is a bit slow. Once the browsing session is done with, QuickPic will provide you with a comprehensive view of all the images stored in your Android Phone. The thumbnails will allow you to access the ones you are searching for.
QuickPic 'exclude and hide' option
Media scan could be a troublesome option every time you try to launch images. It will prolong the wait time and this could become irritating as well. QuickPic allows you to load the albums quicker by excluding the particular album from the media scan. For this, all you need to do is to quick press on the concerned album and select the exclude option form the popup menu.
Using the 'exclude' option for your photos will also help it remain hidden from view. This option protects your most private photos from public view. Any photo album which you want to hide can be done so by activating the exclude menu for that particular album.
QuickPic 'password protect' option for your photo albums
QuickPic offers you great privacy settings for your photos and videos. It is in fact much better when compared to other softwares for Android phones. The files that you have hidden from view by using the exclusion option can also be locked with a password to give it double protection. While this may not be much protection if you have an advanced user who knows the moves and goes deeper into the file system to extract hidden files, it will surely give enough protection from prying eyes and people who like to browse your mobile just out of curiosity.
To view the files that are hidden with QuickPic exclude option, you have to go to the menu and press show hidden files. For someone who is well aware about QuickPic, your hidden files may not be difficult to track down though. But the password option sure does help as password protected files would still ask for the password to be able to open and view if someone has discovered it.
QuickPic photo browsing options
For browsing the photos in QuickPic, you have two options which show a grid or a list view. The button which is right at the top left hand corner will help you choose the option that you are comfortable with. The grid option shows the thumbnails and quadrants in the blurred out view. All you need to do is to tap on the folder of the video for the image to be displayed or video to be played. Hidden files can be viewed by clicking on the menu option.
QuickPic is a wonderful application that comes for free and is much better than the basic software that comes with your Android phone.