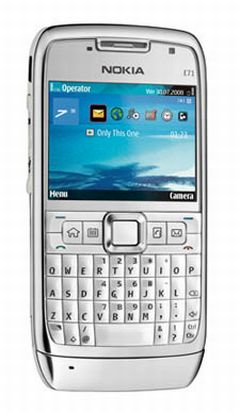 Targeted consumers: the business-class
Holiday season is just around the corner and Nokia is contemplating the release of its most anticipated Smartphone, E71. Raising the rollercoaster of excitement to a new high, Nokia in collaboration with 'Rogers' has officially announced that the E71 will soon see its release in Canada. The exact release date hasn't yet been disclosed though, but the announcement is certainly a glad news for all Nokia fans.
Claimed to be the thinnest in the line [0.39"], the E71 seems to be designed for the business-class. The highly desirable Smartphone doesn't go too high on design though, but the display screen could definitely do well with a larger size. E71 alias messaging device cleverly caters to both your professional as well as your personal requirements via updating your social network and personal email account. Moreover, a QWERTY keyboard, built-in GPS, WiFi, a 3.2 megapixel camera and an expandable memory up to 8GB via a microSD card are few standard features incorporated in the device.
No word yet on pricing and availability. We sure hope to see this one on the store shelves before this year ends.
Via: Marketnews/Symbian-frea