With phones exceedingly switching to touchscreens and glossy bodies, it is no wonder that they become magnets for fingerprints and grime thus making the displays look extremely blotched if not cleaned every now and then. People on the go and in the rush of the hour use napkins or cuffs as makeshift display cleaners wishing that somebody, somewhere, comes up with a better alternative. Löytö Esineiden, a designer, has come up with such a solution. He has come up with what he thinks is the answer to all your worries– the Ö Case, a case specially for iPhones with a screen cleaner built into it.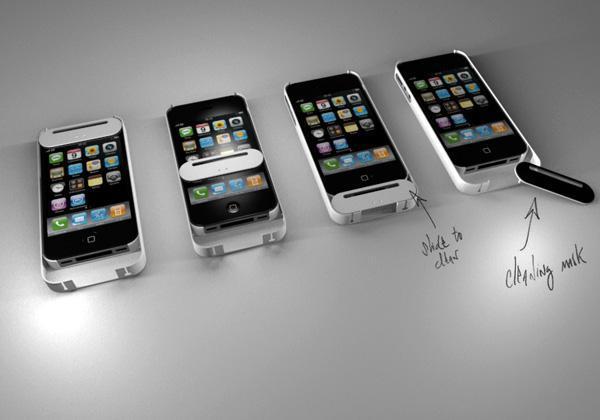 Remember that toy from our childhood that kept us occupied for hours? We could draw on the surface with a pen that attracted magnetic fillings under the screen. To wipe the screen off, we used to drag a "cleaner" from one end of the board to the other. The Ö Case pretty much works on the same concept to clean the iPhone's screen. The case has a little appendage near the bottom which acts as a screen cleaner when it is dragged up and down the surface of the display. Now bid adieu to the grease and fingerprints that mar the display of your precious iPhone!
In addition to this, the case also has a space below the cleaner. The space where the cleaner rests is hollow and can be used as a place to store your earphone buds when they are not being used. The case itself is not at all sleek but it is quite sturdy and handy. Everything considered, the Ö Case is actually the best possible case out there for iPhones. With its dual functionality—a cleaner that wipes clean the display off of dust and grime and space to keep your earphones—this case is definitely worth the price.
Via: YankoDesign